What Makes for a Good Life?
Written by: the Editors of goop
|
Published on: April 13, 2023
What makes for a good life? Harvard researchers aimed to find out in one of the longest studies in history—spanning eight decades—which they called the Harvard Study of Adult Development.
In 1938, researchers began following the journey of a group of people and families. They asked them questions and took scientific measurements like brain scans and blood samples, trying to discover what makes us feel happier and be healthier.
Over eight decades later, Robert Waldinger, a professor of psychiatry at Harvard Medical School and Massachusetts General Hospital, and Marc Schulz, the associate director of the Harvard Study of Adult Development, share the results of this noteworthy study in their new book, The Good Life. In the excerpt below, they walk us through how to cultivate two key indicators of happiness: the frequency and quality of time we spend with others.
Robert Waldinger and Marc Schulz

The Good Life

Bookshop, $26.96

SHOP NOW
Two Crucial Predictors of Happiness
By Robert Waldinger, MD, and Marc Schulz, PhD, from The Good Life
In 2008 we telephoned the wives and husbands of Harvard Study couples in their 80s every night for eight nights. We spoke to each partner separately and asked them a series of questions about their days. We mentioned these surveys in Chapter One (they generated a lot of useful data!). We wanted to know how they'd felt physically that day, what kinds of activities they'd been involved in, if they'd needed or received emotional support, and how much time they'd spent with their spouse and with other people.
The simple measure of time spent with others proved quite important, because on a day-to-day basis this measurement was clearly linked with happiness. On days when these men and women spent more time in the company of others, they were happier. In particular, the more time they spent with their partners, the more happiness they reported. This was true across all couples but especially true for those in satisfying relationships.
Like most older folks, these men and women experienced day-to-day fluctuations in their levels of physical pain and health difficulties. Not surprisingly, their moods were lower on the days when they had more physical pain. But we found that the people who were in more satisfied relationships were buffered somewhat from these ups and downs of mood—their happiness did not decline as much on the days when they had more pain. When they felt worse physically, they did not report declines in mood as much as individuals who were in less satisfying relationships. Their happy marriages protected their moods even on the days when they had more pain.
This might all sound quite intuitive, but there is a very powerful yet simple message nestled in these findings: the frequency and the quality of our contact with other people are two major predictors of happiness.
Your Social Observatory
Sterling Ainsley, so eager to avoid thinking about any of his relationships, believed he was doing pretty well at social fitness. He thought the way he conducted himself with his kids was healthy, he thought his refusal to divorce his wife whom he rarely saw was somewhat heroic, and he even prided himself on his ability to talk with people—a skill he'd developed in his work life. But when asked to look more deeply in the mirror and consider his relationships, it became clear that deep down he felt quite alone, and he had little understanding of how isolated he was.
So where do we start? How can we come closer to seeing the reality of our own social universe? It's good to start simple. First, ask: Who is in my life?
It's a question that most of us, amazingly, never bother to ask ourselves. Even making a basic list of the ten people who populate the center of your social universe can be illuminating. Try it below; you might be surprised at who comes to mind and who doesn't.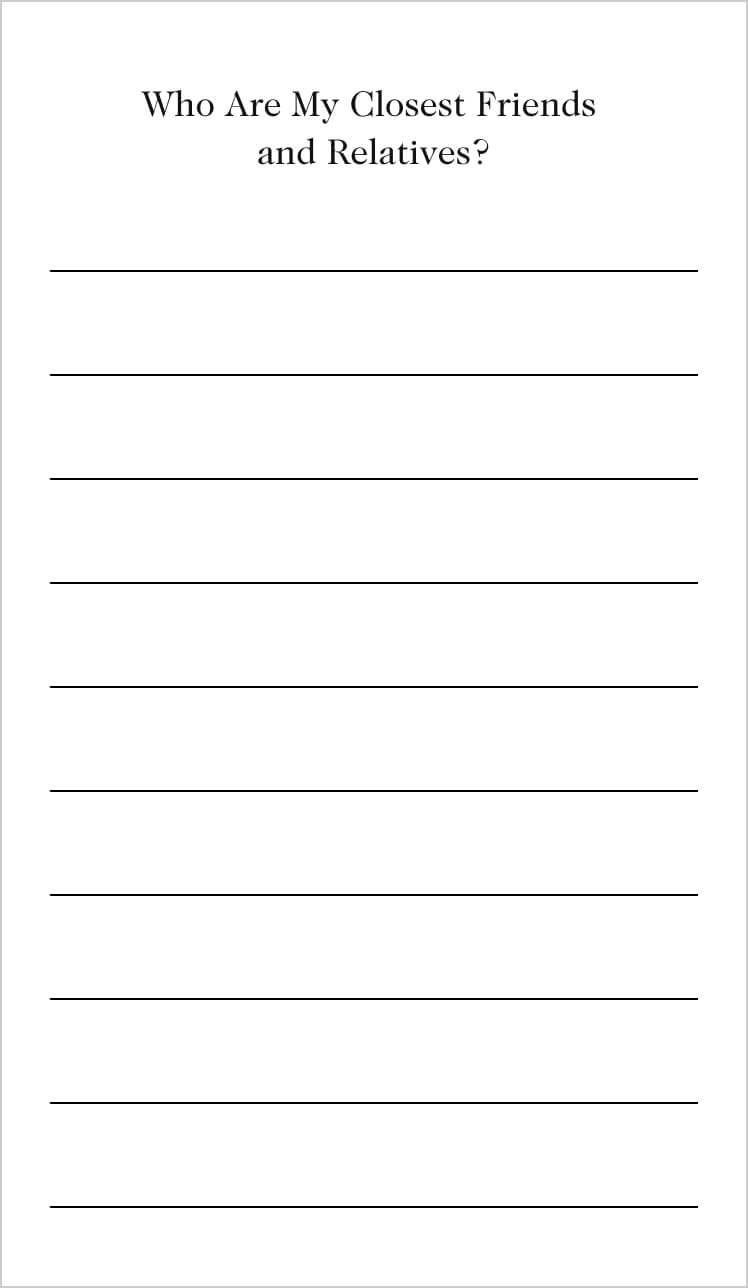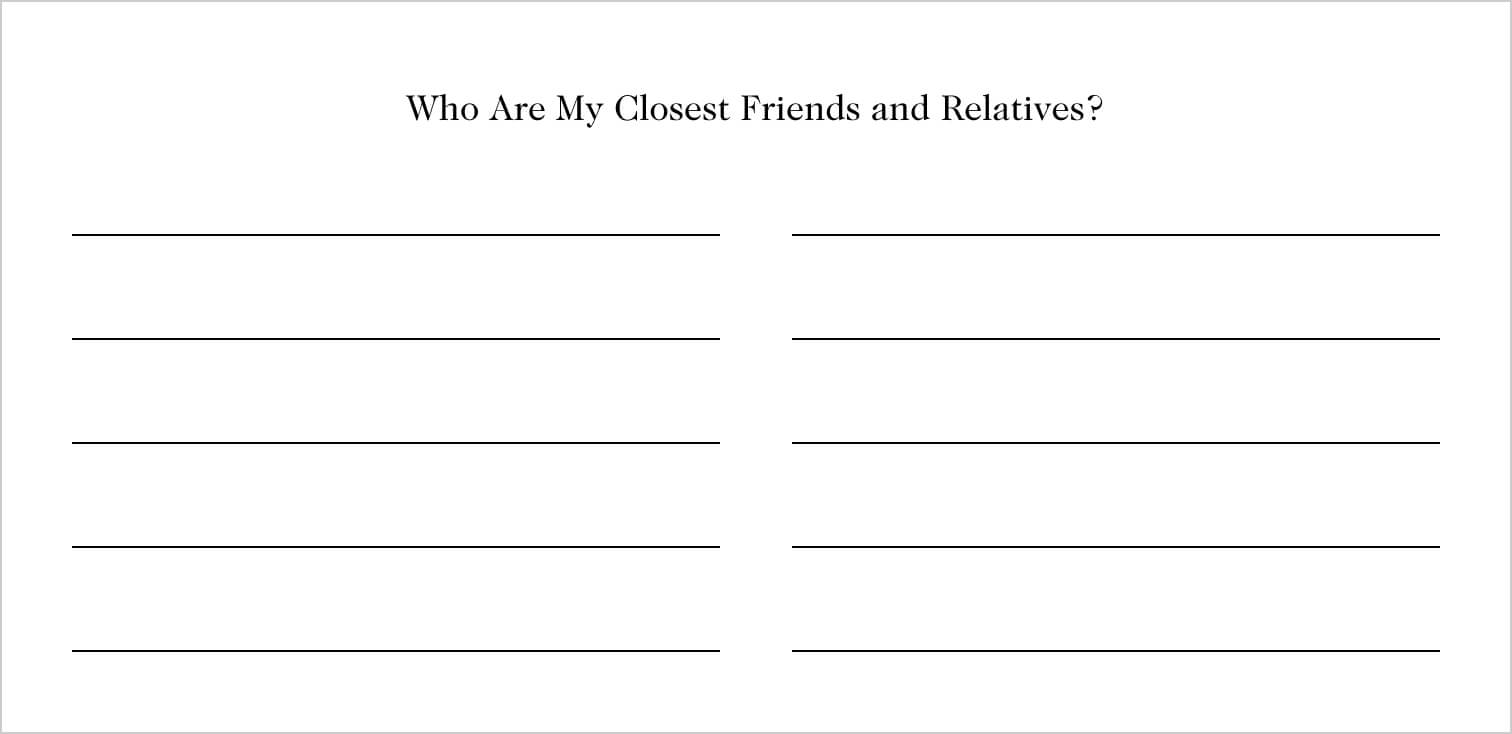 A few essential relationships—your family, romantic partner, close friends—probably come to mind quickly, but don't think only of your most "important" or successful connections. List those who affect you from day to day and year to year—good or bad. Your boss or a particular coworker, for example. Even relationships that seem insignificant could make the list. We'll talk much more about this in a later chapter, but acquaintances and casual relationships built around activities like knitting, playing soccer, or meeting with a book club could be more important to you than you think. The list might also include people you really enjoy but almost never see: for example, an old friend you often find yourself thinking about but with whom you've fallen out of touch. It might even include people you only exchange pleasantries with, like the driver of the bus you take to work, whom you look forward to seeing and who gives your day a little jolt of good energy.
Once you've got a good set of people, it's time to ask: What is the character of these relationships?
We've asked Harvard Study participants a huge variety of questions over the years to try to answer this larger question and create "pictures" (really, datasets) that reflect the character of their social universes. But trying to get some perspective on your own social universe needn't be as complex as research. You can simply think about the quality and the frequency of contact you have with each person and use two broad dimensions to capture your social world: 1) How a relationship makes you feel, and 2) How often that happens.
Below you will find a chart that you can use to give your social universe a shape on this two-dimensional spectrum. Where you locate someone on this chart should depend on how energized or depleting that relationship feels, and how frequently you interact with that person.
This might seem simplistic at first,…and in a way, it is. You're taking something intensely personal and complicated, flattening it, and giving it a static place in this social universe; complexities will be shed in the process. That's okay. This is a first step at capturing the character of the relationships that make your life what it is.
What do we mean by energizing and depleting?
These are subjective terms, and that's intentional; this is about recognizing how you feel when you are with these individuals. Sometimes we don't really know how we feel about a relationship until we stop to think about it.
In general, an energizing relationship enlivens and invigorates you, and it gives you a sense of connection and belonging that remains after the two of you part ways. It makes you feel better than you would feel if you were alone.
A depleting relationship induces tension, frustration, or anxiety, and makes you feel worried, or even demoralized. In some ways, it makes you feel lesser or more disconnected than you would feel if you were alone. This doesn't mean that an energizing relationship will make you feel good all the time or that a depleting relationship will make you feel bad all the time. Even our most vital relationships have their challenges, and many, of course, are a mixed bag. Your general intuition about each person on your list is the thing you want to capture: When you spend time with this person, how do you feel?
Take a look at the chart and think about where each of the people on your list might land. Do they energize or deplete you? Do you see them a lot, or only a little? That cherished person you don't see enough of can act as your starting point. Set them on the map with a small dot—like a star in your social universe.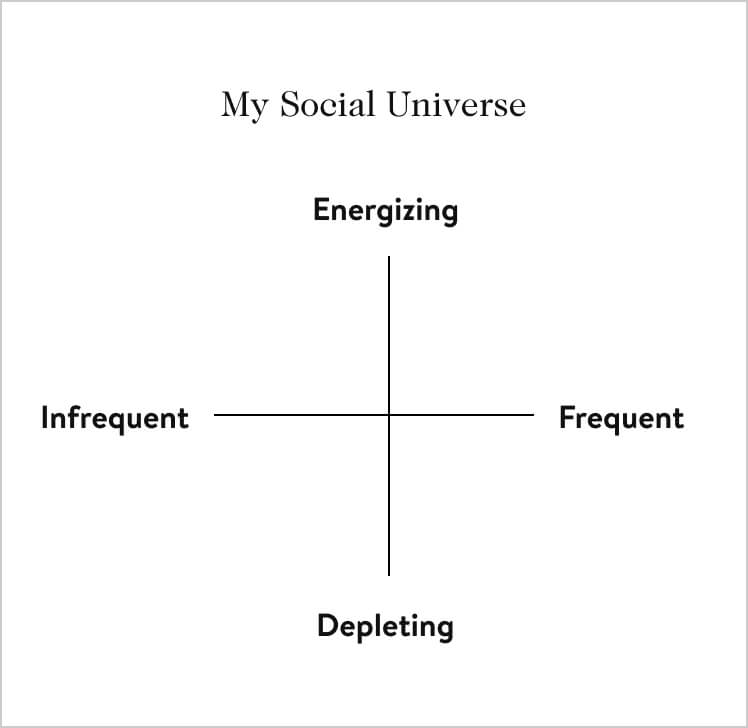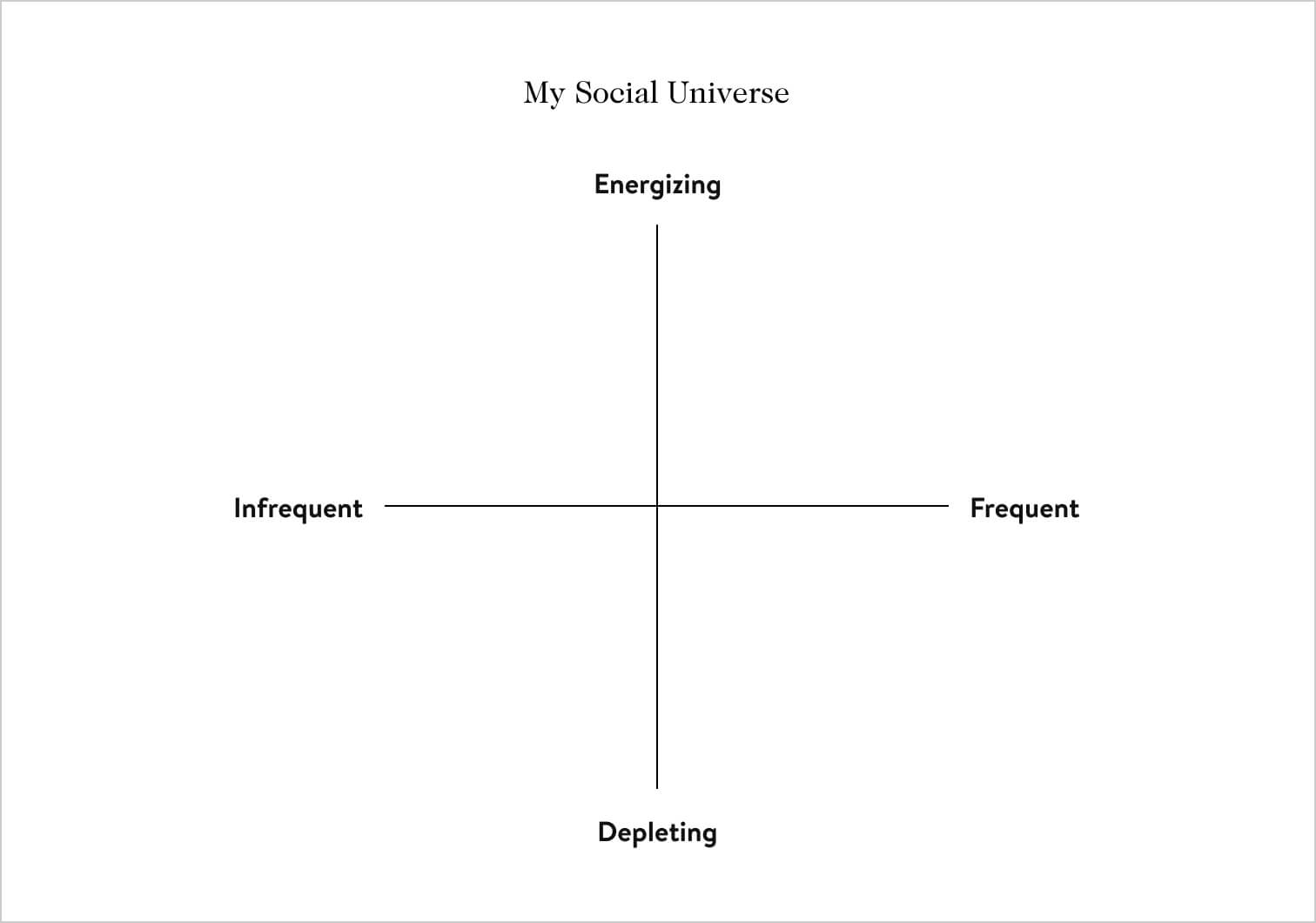 As you set your relationships in their place, think about each one. Why is this person in this particular place? What is it about the relationship that compelled you to put them there? Is this relationship where you want it to be? If a relationship is particularly difficult and has been giving you a depleted feeling, do any reasons for this come to mind?
Checking in with each relationship like this can help us appreciate and be thankful for people who enrich our lives, and it can help us see which relationships we want to work on improving. Your answers to these questions will (and should) reflect your own preferences about the amount and kind of social connections that suit you. You might realize that you'd like to see this person more often, but that person is in just the right spot. Maybe this other relationship is depleting but important and needs some special attention. If you have a sense of which direction you'd like a relationship to move, draw an arrow from where they are to the spot you'd like them to be.
We want to make clear that identifying a relationship as depleting does not mean you should cut that person out of your life (although after some reflection you may decide you need to see certain people less often). Instead, it may be a sign that there is something important there that needs your attention. And that means the relationship contains an opportunity.
In truth, almost all relationships contain opportunities; we just have to identify them. Examples include important relationships from our past, positive relationships we have been neglecting, and difficult relationships that may contain the seeds of a better connection. But these opportunities don't last forever; we have to take advantage of them while we can. If we wait too long, we might find, as Sterling Ainsley did, that it's too late.
We cover things we're into and think you might be, too. If you purchase through an external link here, goop may earn a commission.