My Weekend Bag
A Top Dermatologist Resets on a Greek Island
Written by: Jean Godfrey-June
|
Published on: June 15, 2023
Going back to your roots can involve some serious logistics, particularly if those roots happen to be situated on a small Greek island called Skyros. But for Macrene Alexiades, MD, PhD—she's one of New York's busiest, most-renowned dermatologists—the journey is more than worth it. "Greece is my natural habitat," she says. "The moment I step out of the plane and feel the warmth of the yellow sunshine on my face and breathe the air, I transform." Daily swims in the Aegean Sea deepen the transformation, she says. "They reset my entire nervous system, leaving me calm and at peace."
Alexiades started building on the island in 2017. "I envisioned a field of Greek herbs on the water and a home, made of stone from the mountain, built into the hill," she says. After finding an architect that shared her vision, she finished in 2022: "The Greeks say, 'The good thing is late.'" She grows the Greek medicinal herbs that power several of her active products—including her new body cream, the aptly named Skyros. "The idea was to get my limbs and abdomen smooth and gorgeous for bikini season," she laughs.
Alexiades visits the island for a few weeks at a time. "You have to, because it's challenging to get there," she says. "You first travel to one island, then take a ferry to Skyros." While she'd love to stay longer, it's not in the cards just yet. "My practice needs me in New York for now," she says.
MACRENE Actives

High Performance Body Cream

goop, $125

SHOP NOW
Still, two weeks is a significant stretch. Perhaps unsurprisingly, Alexiades packs her entire Macrene arsenal—from the bestselling serum to her prized tinted moisturizer—for the trip.
The Cult-Favorite Serum

MACRENE Actives

High Performance Face Serum

goop, $195

SHOP NOW

Creamy Tinted Moisturizer

MACRENE Actives

High Performance Tinted Moisturizer

goop, $165

SHOP NOW
The Summer Essentials
Mineral SPF 50 and bug spray (it's actually a gel that smells so good, you can wear it as perfume) are essential. "My favorite sunscreen is Coola SPF 50," says Alexiades. "It's a great clean formula with a high SPF."
Heretic

Entomologist

goop, $45

SHOP NOW
The Fridge Trick
When it's really hot, Alexiades keeps her skin care in the refrigerator. "It's to preserve all the active ingredients at maximum efficacy," she says. Here's what goes inside.
MACRENE Actives

High Performance Cleanser

goop, $95

SHOP NOW

MACRENE Actives

High Performance Eye Cream

goop, $145

SHOP NOW

MACRENE Actives

High Performance Face Cream

goop, $225

SHOP NOW

Macrene Actives

High Performance Neck & Décolletage Treatment

goop, $295

SHOP NOW
Shower Routine
"I'm very interested in the antioxidant properties of turmeric. I especially like these two formulas."
Redoux

Turmeric Bar Soap

goop, $16

SHOP NOW

Kora Organics

Turmeric Invigorating Body Scrub

goop, $60

SHOP NOW
"I love Avalon Organics' lavender shampoo and conditioner. I'm friends with the owners and feel confident in their sourcing practices."
Night Out
Heretic

Dirty Suede

goop, $165

SHOP NOW

MACRENE Actives

Lip Filler

goop, $125

SHOP NOW
Island Uniform
"All I need is a bikini, a linen sarong, and a hand-crocheted Skyrian sack."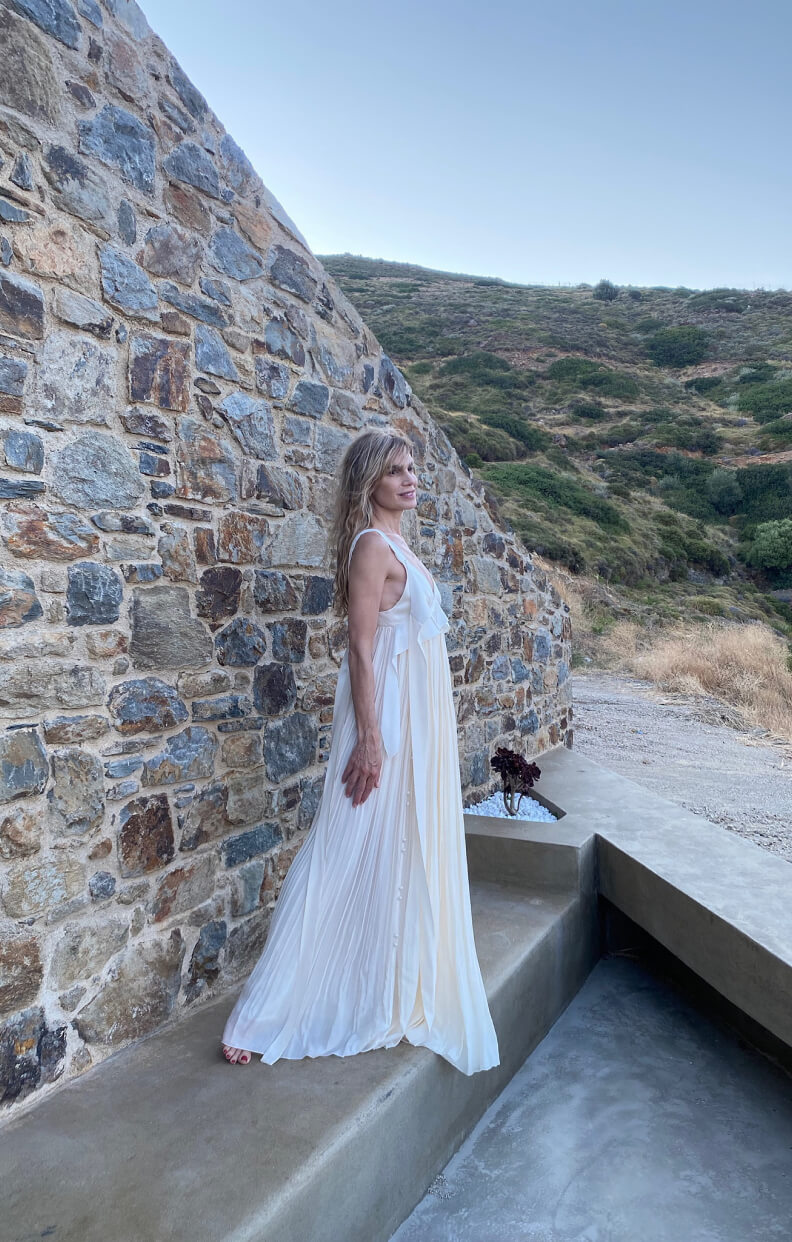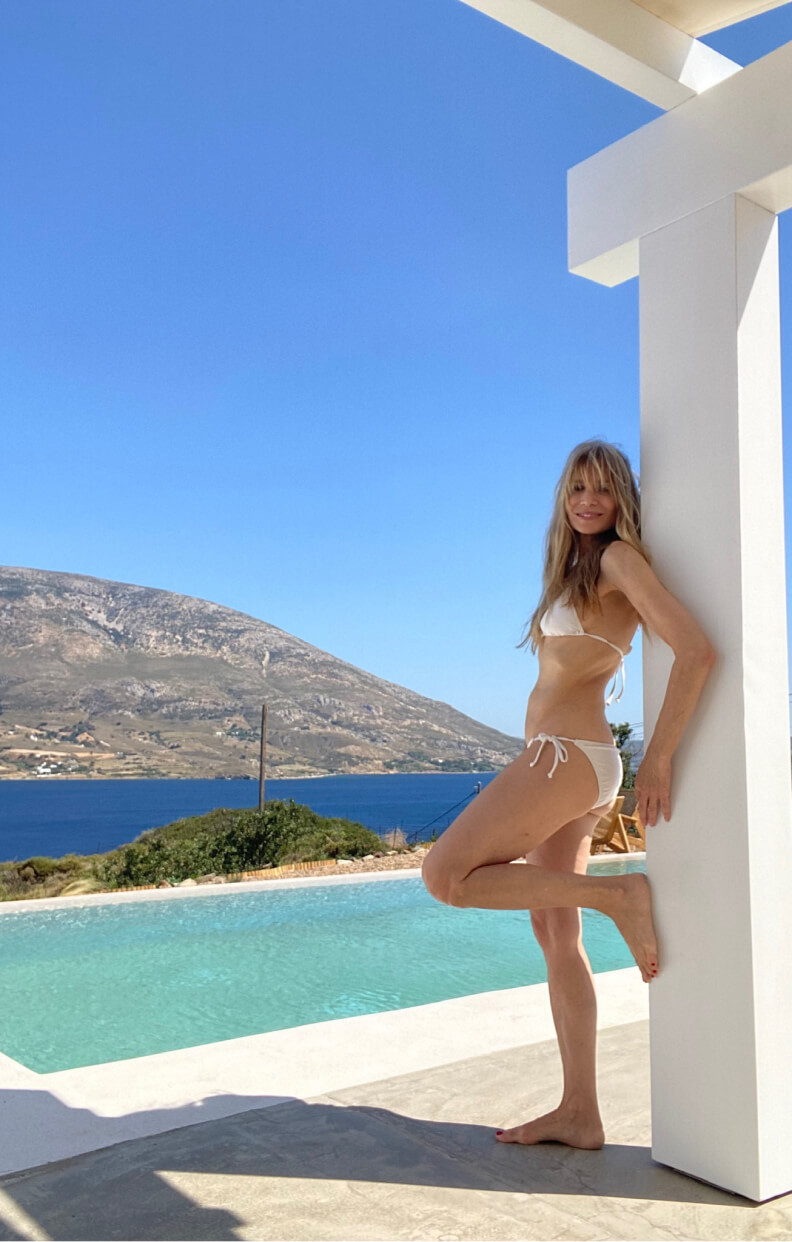 Hunza G

Gloria Bikini

goop, $225

SHOP NOW

Hereu

Galleda Small Bucket Bag

goop, $445

SHOP NOW
MY FAVORITES IN GREECE
STAY
Hotel Grande Bretagne in Athens
"I always stay here." [Editor's note: The hotel has stunning views of everything—the Acropolis, Syntagma Square, the Parliament building, Lycabettus Hill, and the original Olympic stadium.]
Cavo Tagoo in Mykonos
"My longtime friend was the architect for this hotel, and it has stood the test of time as an architectural favorite near town." [Editor's note: The suites are beautiful—especially the Cave Pool Suite, which has a private pool overlooking the sea.]
Katikies in Santorini
"I love how private this hotel feels. And it has the most amazing sunsets."
EAT
The Old Tavern of Psarras in Athens
"This has the best traditional cuisine and is where you want to be if you're visiting Athens for a couple days."
Kiki's in Mykonos
"This is hidden away on the Agios Sostis beach, with a beautiful stone fireplace for cooking."
Lycabettus in Santorini
"Again, love the sunsets here—very romantic on the edge of the cliffs."
SHOP
Lalaounis in Athens
"An absolute must: The founder, Demetra Lalaounis, is a close friend, and the quality of the gold in these pieces is unsurpassed."
The Poet Sandal Maker in Athens
"I always pick up my favorite sandals from him. He's near the Acropolis station, and Jackie O. wore his sandals!"
Callista in Athens
"These are the best handwoven handbags in the universe. I won't say who, but a famous top designer once took an iPhone snap of my black Callista handbag, and I would swear the leather stitchwork trickled down to other designers."
Citronne Galleries in Athens
"This gallery finds and obtains the very best Greek art and sculptures. Look for pieces by Alexandra Athanasiades."
Zerteo Jewelry in Mykonos
"I wear all of Teo's jewelry. He makes the very best gold cuffs, evil eye jewelry, and gold silver necklaces at reasonable prices."
Amaris Art Stories in Mykonos
"I love these easy, flowy Grecian-made pieces for days on the islands."
Related Reading
Hello, My Age Is: 53 | Between a Blue Zone–Influenced Lifestyle and a Magic Serum, Something's Working
2 Plastic Surgeons on Crow's-Feet, Dark Circles, and Everything about Eyes
A Top Dermatologist Gets Your Skin in Shape for Fall