9 Luxury Brands Setting High Standards for Sustainability
Created with Avocado
Written by: Kelly Martin
|
Published on: April 25, 2023
Fashion editor: Caroline Griswold
The most sustainable approach to stuff is to use what you already have, repair what you can, and, when it's finally time to part ways, find your belongings a loving new home. When you do buy something new—say it's high time for a new mattress, or you're making some considered closet updates—invest in the pieces that will be with you for the duration, from brands working to minimize their impact and maximize your return.
For beauty, supplements, and other replenishables, choosing products made with clean ingredients helps keep toxics out of our environment—unlike conventional products, which often contain chemicals that harm wildlife and disrupt ecosystems. And refill programs help reduce how much stuff you're throwing away.
SUSTAINABILITY CERTIFICATIONS: A GUIDE
B Corp certification verifies a company's high standards of environmental and social performance, accountability, and transparency.
MADE SAFE certification means that products have been rigorously tested to ensure that they are free of ingredients harmful to human or planet health. The certification process involves a thorough evaluation of all ingredients used in the product, as well as the manufacturing process and the potential environmental impact.
Climate Neutral certification means a company has achieved net-zero greenhouse gas emissions. This can be done by first reducing emissions, then purchasing carbon offsets or planting trees to balance out the remaining footprint.
OEKO-TEX offers several different types of certification (for textiles, leathers, and more, each with stringent criteria) as well as tools to support sustainable and socially responsible production practices.
GOTS (Global Organic Textile Standard) certification is used for organic textiles. The certification process investigates every step in the textile supply chain—from raw material to finished product.
1% for the Planet is a nonprofit that funnels corporate funding toward climate change solutions. Member companies donate 1 percent of their total sales to environmental causes.
GOLS (Global Organic Latex Standard) certification means that latex products are made with at least 95 percent certified organic raw materials and that strict environmental and social criteria are met throughout the production process.
Forest Stewardship Council (FSC) certification means that wood and paper products come from responsibly managed forests and meet strict environmental standards.
Avocado
We've long loved Avocado for its values. The company's ethos is simple: What's beautiful, comfortable, and made to last should also be good for you—and never greenwashed.
The whole product line—mattresses, bedding, and furniture, as well as a yoga collection, robes and pajamas, and body care—is made with thoughtfully sourced materials. In the mattresses, for example, you'll find GOLS-certified latex, GOTS-certified cotton and wool, sustainably harvested wood, and upcycled steel. And they're MADE SAFE–certified, too: free of fiberglass, chemical flame retardants, polyurethane foam, VOC-emitting glues and finishes, phthalates, and formaldehydes.
It all comes together in Avocado's Los Angeles factory and Forest Stewardship Council–certified woodshop, which are powered by 100 percent renewable energy. Plus: Avocado is a B Corp, a member of 1% for the Planet, and proudly certified Climate Neutral. (The company is now actually carbon-negative, meaning it offsets more emissions than it produces.)
Avocado

Luxury Organic Mattress

Avocado, from $2,799

SHOP NOW
True Botanicals
The first reason to love True Botanicals: The skin care feels impossibly nourishing, smells fantastic, and leaves skin hydrated and healthy-looking. The second: It's incredibly effective and make a real difference on your skin.
The brand prioritizes regeneratively farmed ingredients and donates to Grow Ahead, which helps farmers transition to regenerative agricultural practices. The products are certified by MADE SAFE, and True Botanicals has received the highest rating possible from the Environmental Working Group for its safe nontoxic formulations. Even the paper packaging is Forest Stewardship Council–certified. True Botanicals has also been awarded an EcoVadis gold rating, placing it among the top 5 percent of companies worldwide for sustainability.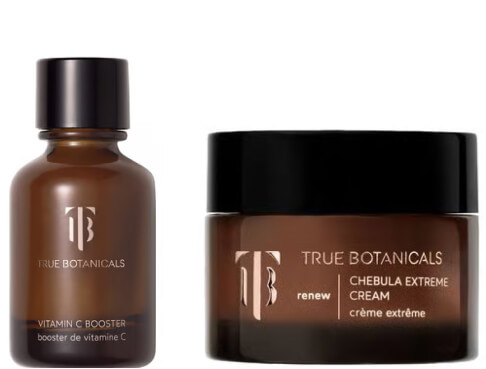 From left:
TRUE BOTANICALS VITAMIN C BOOSTER, goop, $90; TRUE BOTANICALS CHEBULA EXTREME CREAM, goop, $110
Rahua
Rahua's story began with rain forest conservation. New York–based hairstylist Fabian Lliguin was working among the Indigenous Quechua-Shuar people in the Amazon, educating them about their land rights, when they told him the secret to their long, shiny hair: rahua oil, which they harvested from the rain forest around them.
Now, Lliguin partners with the Quechua-Shuar and other Indigenous people in the area to sustainably produce the ingredients in the transformative Rahua hair care. We're particularly fond of the hydration shampoo and conditioner, which leave all hair types soft, shiny, and bouncy. The bottles are plastic, but they're reusable and fully recyclable—and the products are all available in refill pouches, so when it's time to re-up, you can do so with less waste.
Rahua has worked on legal protections for 150,000 acres of Amazon rain forest, and it partners with The Pink Flamingo project to support wildlife habitat conservation in the Galapagos, too.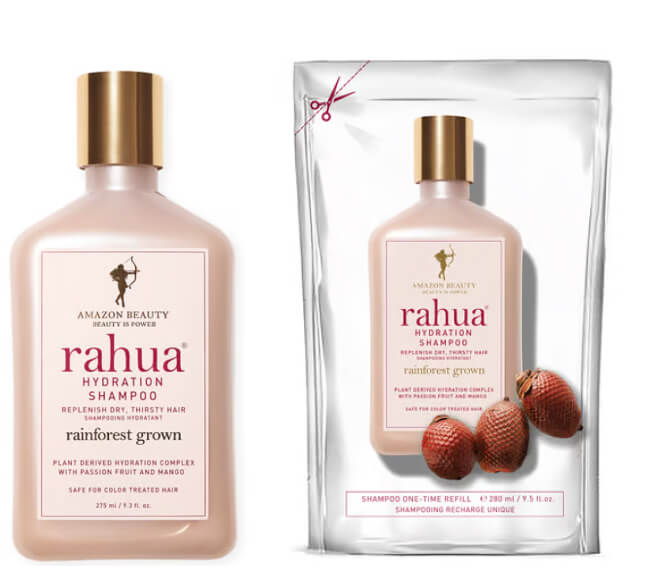 From left:
RAHUA HYDRATION SHAMPOO, goop, $36;
RAHUA HYDRATION SHAMPOO REFILL, goop, $32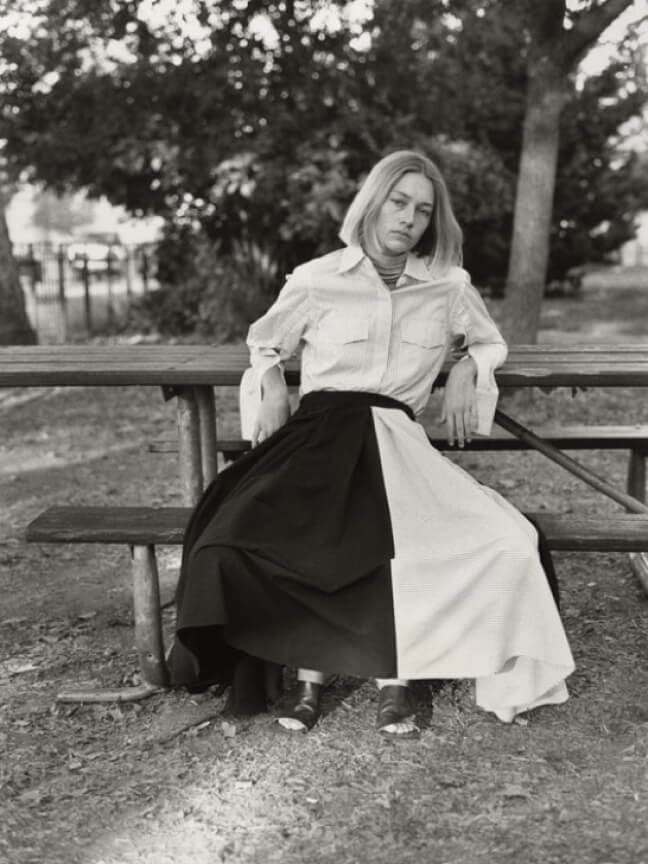 Maria McManus
Maria McManus was founded with the goal of reforming the fashion industry—less water, less waste, less in the landfill. The sweaters: recycled cashmere. The cotton: GOTS-certified. The buttons: not plastic but corozo, a durable ivory-like material made from the seed of the tagua palm tree. Everything in the cool-girl line is immaculately tailored—and as relevant in your wardrobe now as it will be a decade from now (or even in your daughter's, down the line).
above, on model:
MARIA MCMANUS BOX PLEAT D-RING SKIRT, goop, $950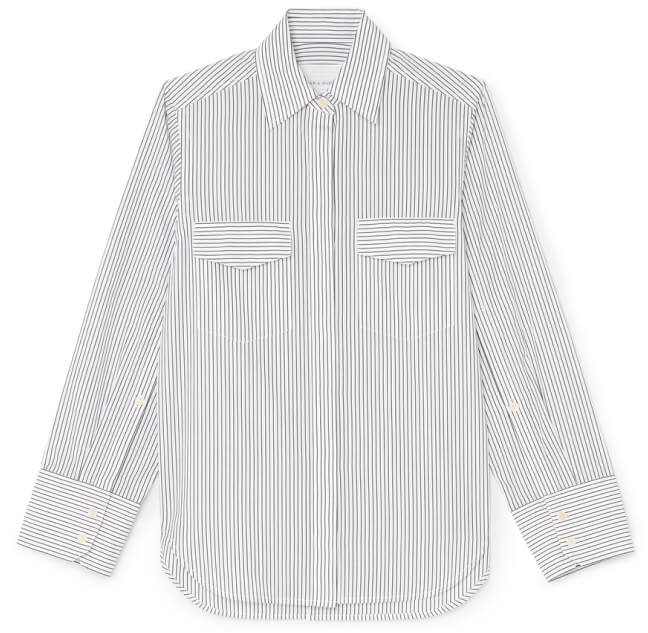 above:
MARIA MCMANUS SPLIT-SLEEVE SHIRT, goop, $490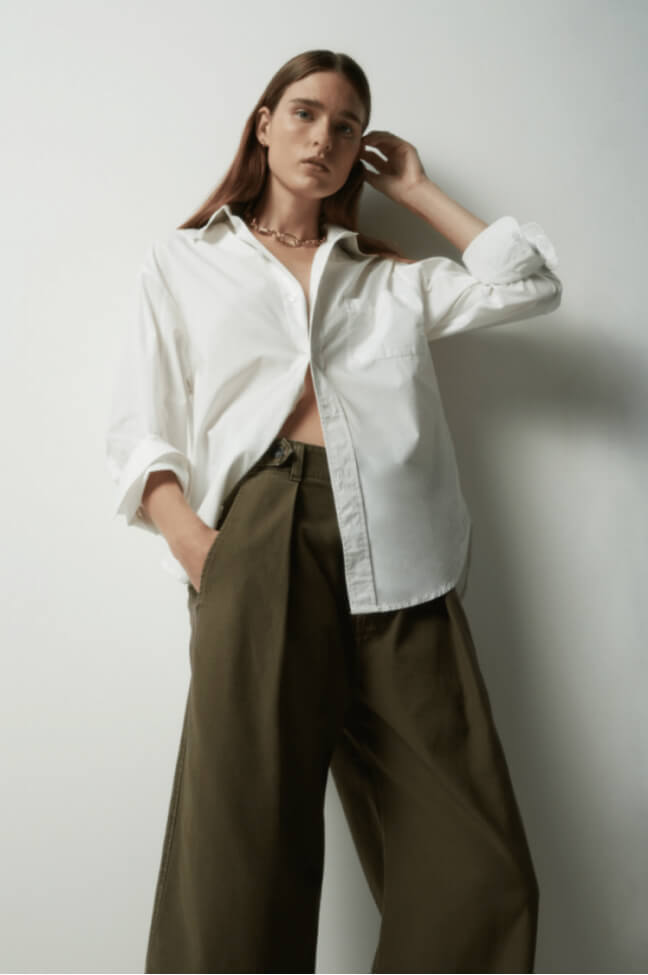 Citizens of Humanity
California-based Citizens of Humanity (which also owns AGOLDE and Goldsign) is one of the few vertically integrated denim brands, implementing sustainable changes in every phase of the production cycle, from fabric sourcing to finishing touches. The jeans are often cut from recycled or regenerative cotton, then washed, dyed, distressed, and dried in high-efficiency machines that slash water, power, and chemical use up to 50 percent compared to conventional ones.
above, on model:
CITIZENS OF HUMANITY KAYLA SHIRT, goop, $198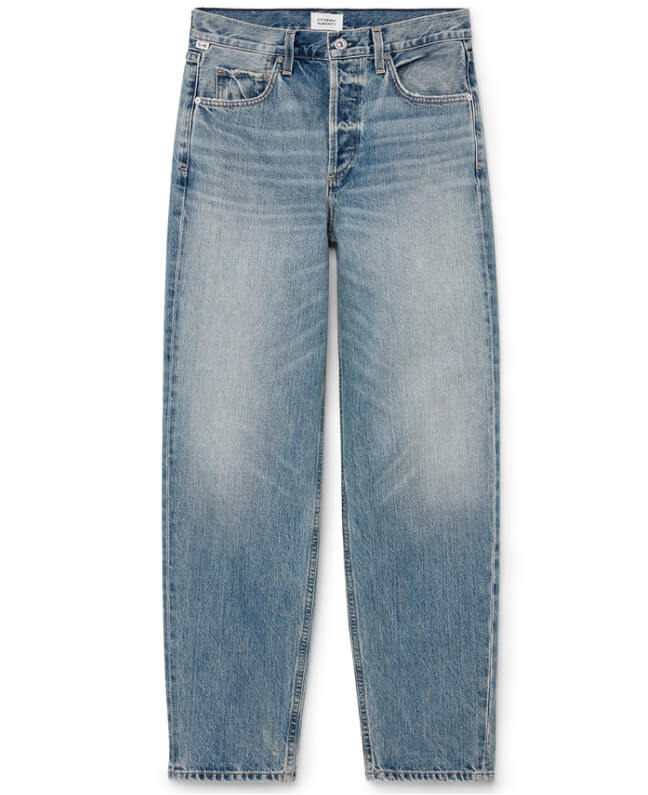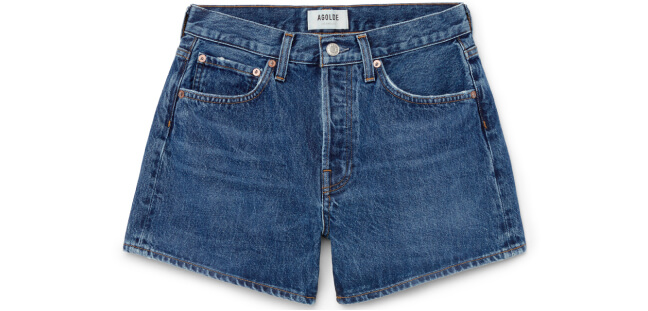 above, from top:
CITIZENS OF HUMANITY DEVI LOW-SLUNG BAGGY TAPER JEANS, goop, $228;
AGOLDE PARKER LONG SHORTS, goop, $148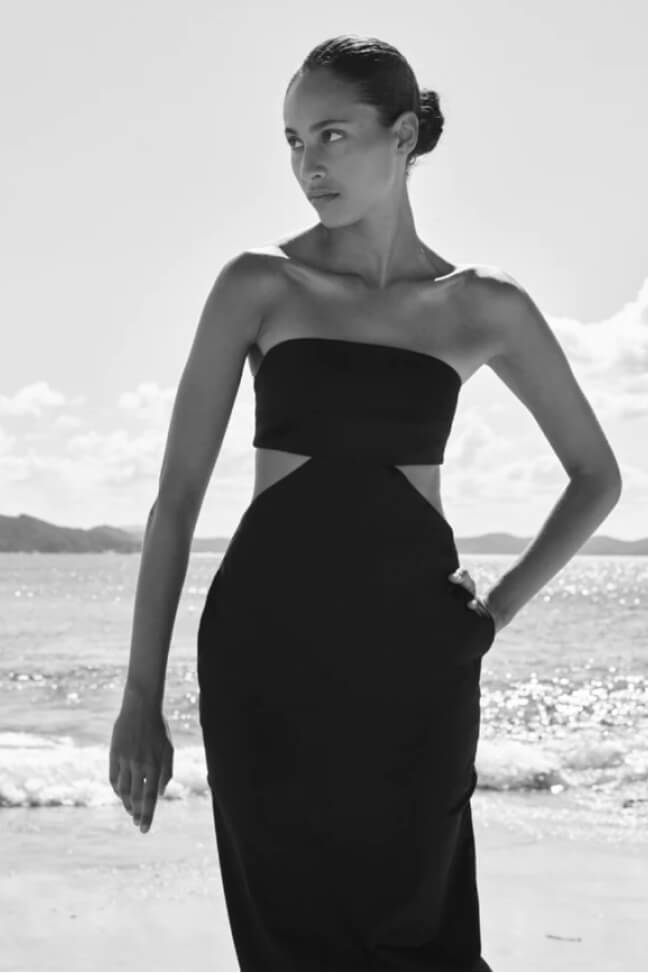 BONDI BORN
This Aussie swimwear brand makes gorgeous bikinis and some very cute clothes—which are made even cuter by their sustainability cred: BONDI uses made-to-last OEKO-TEX-certified materials and keeps its production runs small to minimize waste. It has eliminated plastic packaging, too—everything from the swimsuit hygiene liners to the swing tags is recyclable or compostable. Plus: The brand is a certified B Corp, part of 1% for the Planet, and certified Climate Neutral for its investment in Australian reforestation projects.
above, on model:
BONDI BORN MONTE CARLO DRESS, goop, $625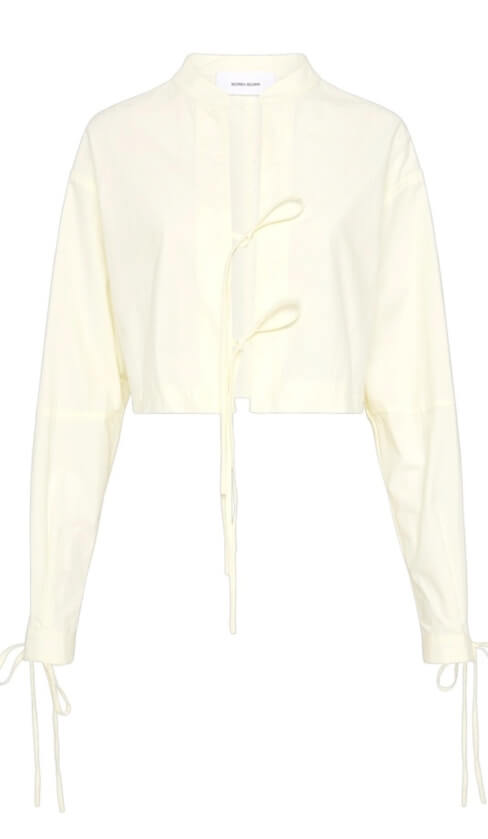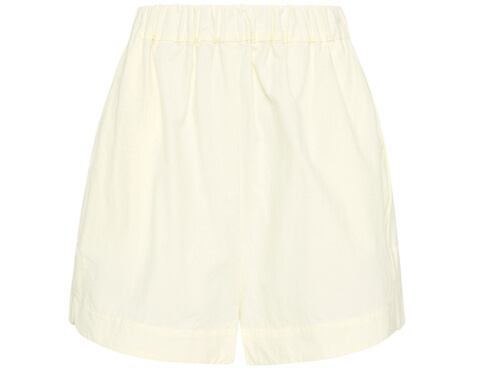 above, from top:
BONDI BORN PAPENO SHIRT, goop, $375;
BONDI BORN IOS SHORTS, goop, $325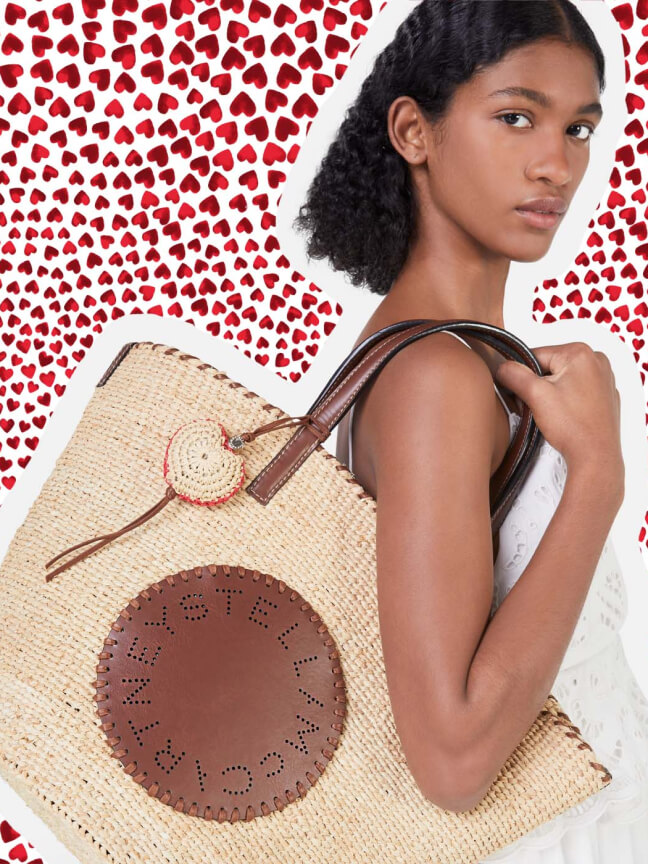 Stella McCartney
An early leader in the cruelty-free movement, Stella McCartney has never used leather, feathers, furs, or skins in her eponymous line. And for the last decade, the brand has used insights from an annual sustainability assessment—the EP&L, which measures emissions, water and land use, pollution, and waste—to guide decisions about what materials it uses. For example: In 2014, when the report revealed that cashmere made up a teeny fragment of the line's raw materials but represented 42 percent of its raw materials' environmental impact, the designers swapped out virgin cashmere for recycled—and reduced the impact of its cashmere use by 31 percent in two years. And the brand continues to move toward lower-impact materials, like recycled polyester and nylon and leather alternatives made from plants, like grape-based leather and Mylo mycelium leather.
above, on model:
STELLA MCCARTNEY LOGO RAFFIA LARGE BASKET BAG, Stella McCartney, $1,195;
STELLA MCCARTNEY HEART CROCHET MIDI CAMI DRESS, Stella McCartney, $2,800
Prada's Re-Nylon Collection
Honorable mention: In 2019, Prada announced a new initiative called Re-Nylon, which reimagined six of its most iconic bags in ECONYL, a regenerated (and infinitely recyclable) nylon made from ocean plastic, fishing nets, and textile waste. Since then, Re-Nylon has expanded to include ready-to-wear, footwear, and accessories—a meaningful step in the right direction. A percentage of proceeds from the collection goes to SEA BEYOND, an educational program established by Prada and UNESCO's Intergovernmental Oceanographic Commission to raise awareness about marine conservation.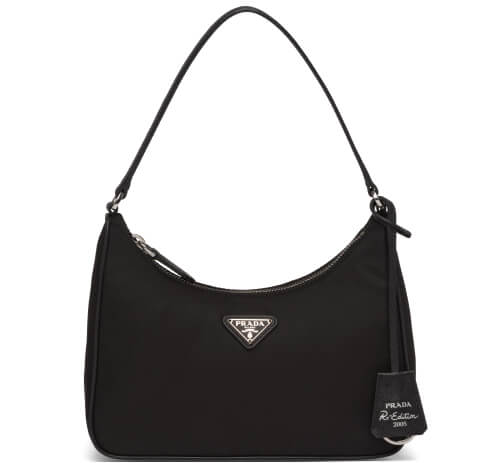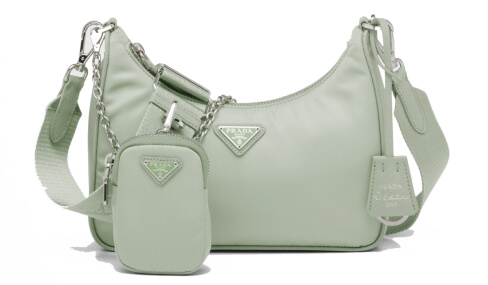 ABOVE:
PRADA RE-NYLON RE-EDITION 2000 MINI-BAG, Prada, $1,250;
PRADA RE-EDITION 2005 RE-NYLON BAG, Prada, $1,950
Tabayer
Drawing inspiration from ancient amulets, Tabayer founder Nigora Tokhtabayeva creates sculptural fine jewelry with spiritual oomph. So it makes sense that she seeks out materials untouched by negative energies: Tabayer's gold is certified Fairmined—meaning it comes from small-scale mining operations with fair labor practices and lower environmental impact than traditional mines. And the diamonds are certified conflict-free by the Kimberley Process.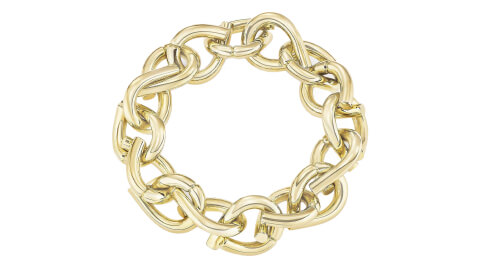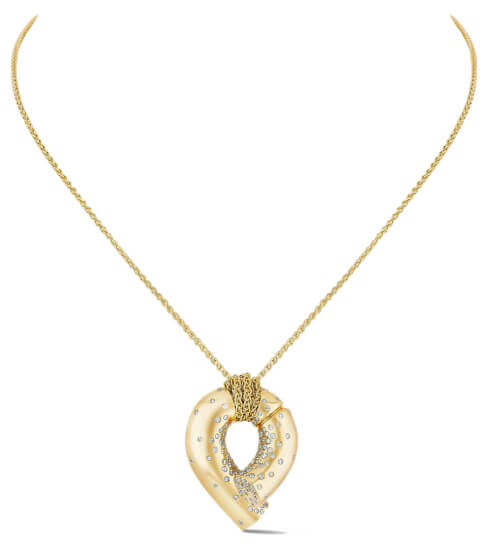 ABOVE:
TABAYER OERA BRACELET, Tabayer, $19,300;
TABAYER OERA PENDANT, Tabayer, $10,400
Related Reading
Regeneratively Farmed Skin Care? Yes
Sustainable Skin, Hair, and Body Essentials We Love