10 Days in Sicily (and What I Packed)
Written by: Brianna Peters
|
Published on: April 20, 2023
Photo courtesy of Belmond Villa Sant'Andrea
I had the freshest, juiciest tomato I've ever tasted; I saw candy-colored sunsets over sparkling blue seas; and I couldn't believe the ancient, incredibly varied architecture—definitely the most beautiful I'd ever laid eyes on. Along with Sicily's decadent food, stunning views, rich history, and fantastic weather, I soaked up plenty of the dolce far niente mindset, which stuck with me long after I got back. Below, where I stayed, ate, shopped, and explored—and what I brought with me.
The Overnight-Flight Makeover
Emerging bedraggled and exhausted from the plane definitely puts a damper on day 1; take ITA Airways if you can (the seats are so comfortable, I fell asleep almost immediately). But even if you don't sleep, this little skin-and-hair routine leaves you looking as if you did.
1. Moisturize over and over.
goop Beauty

GOOPGLOW Vita-C Brightening Eye Cream

goop, $58/$52 with subscription

SHOP NOW

goop Beauty

GOOPGENES Clean Nourishing Lip Balm

goop, $20

SHOP NOW

Le Prunier

Plum Beauty Oil

goop, $72

SHOP NOW

Furtuna Skin

Rinascita Delle Olive Replenishing Balm

goop, $225

SHOP NOW
2. Style your hair overnight.
Crown Affair

The Dry Shampoo

goop, $36

SHOP NOW

goop Beauty

GOOPGLOW Restore + Shine Hair Serum

goop, $55/$44 with subscription

SHOP NOW
Day 1: Rome
Since there aren't direct flights to Sicily from the US, break up your trip with a night in Rome.
Stay
Hotel de Russie
From the chic suites and lush secret-garden courtyard where you can enjoy an aperitivo to the impeccable service and prime location (right by the Spanish Steps and Villa Borghese), this is the classic.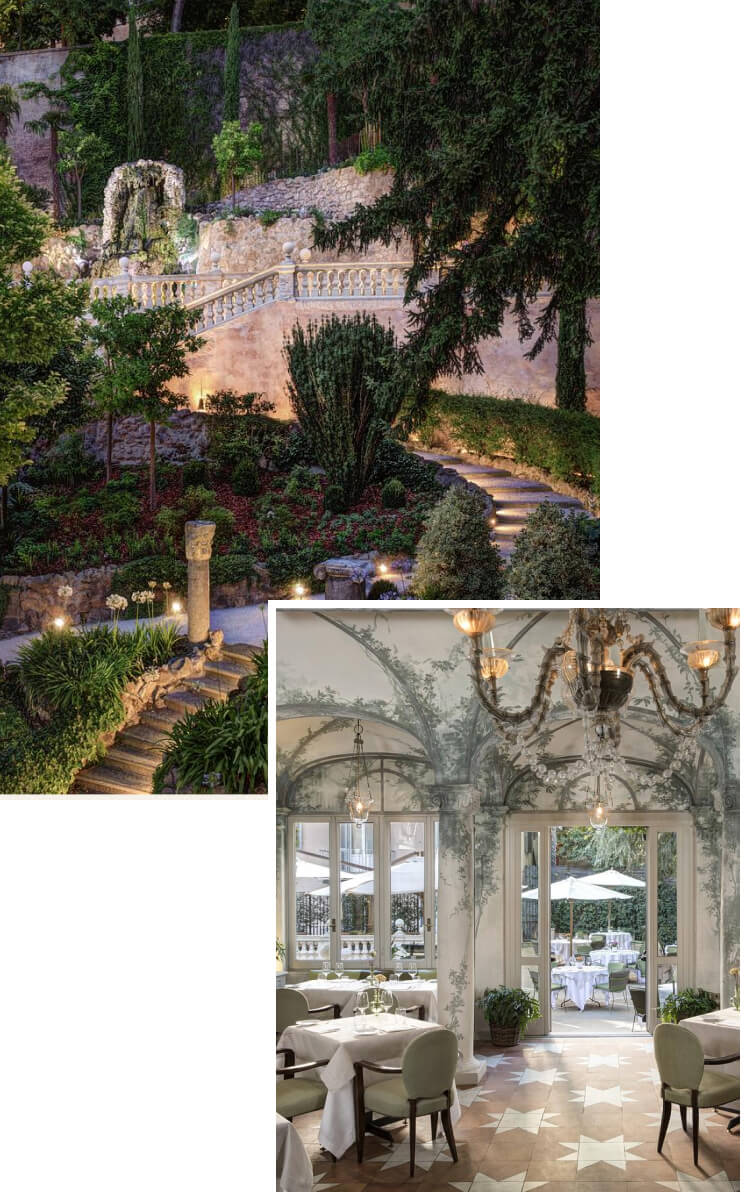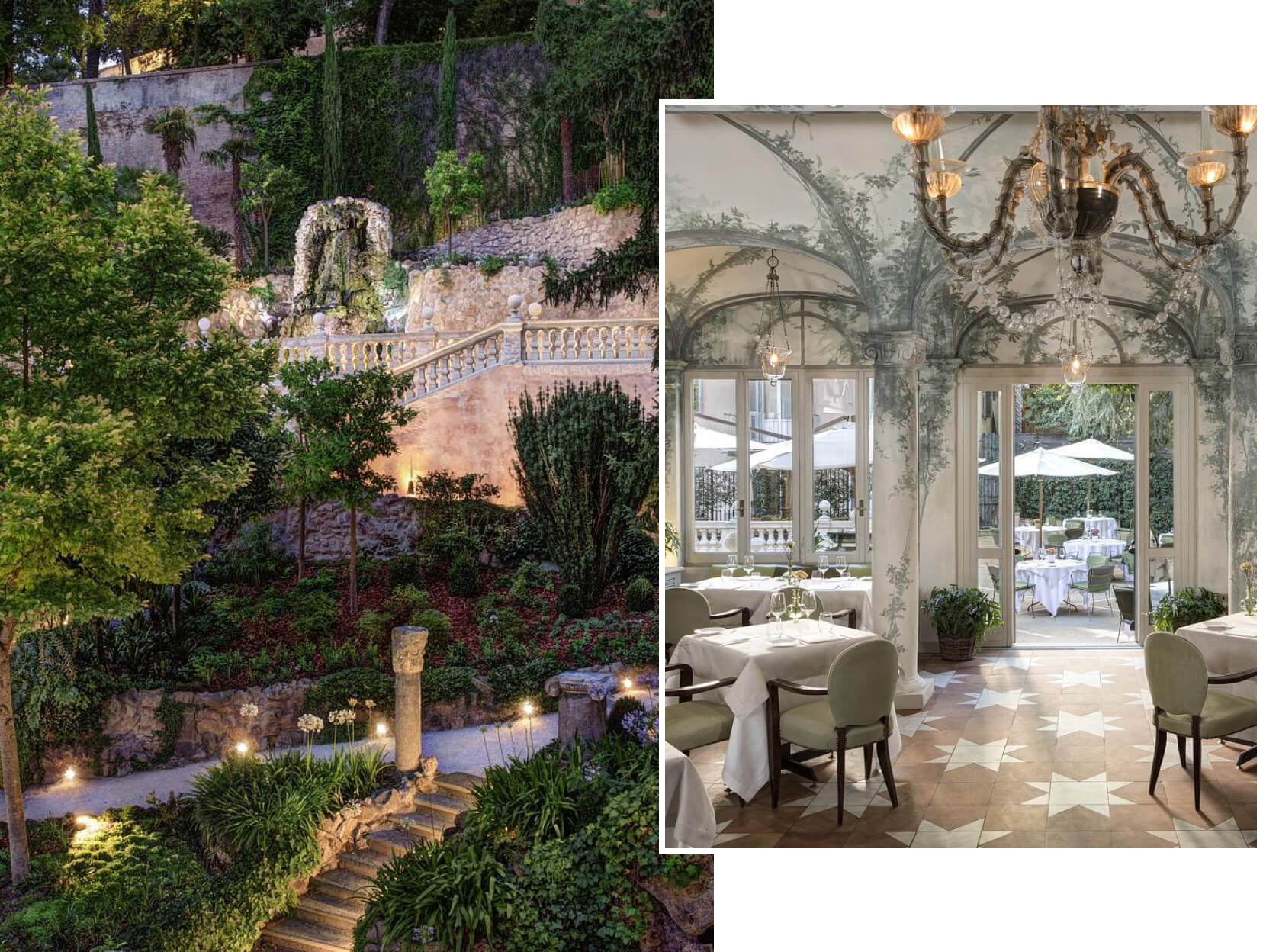 Photos courtesy of Hotel de Russie
Do
After-Hours Vatican Tour
This VIP tour is beyond worth it. You're escorted by two knowledgeable guards to view both the museum and the Sistine Chapel—alone.
Eat and Drink
La Terrazza
This decadent Michelin-starred spot on top of the Hotel Eden has stunning 360-degree views of the city. Come for the mouthwatering veal-broth ravioli with horseradish and stay for the epic sunset.
Da Enzo al 29
If you love a no-frills, wait-in-line-for-two-hours kind of restaurant magic, don't miss this one. I dream about the rigatoni.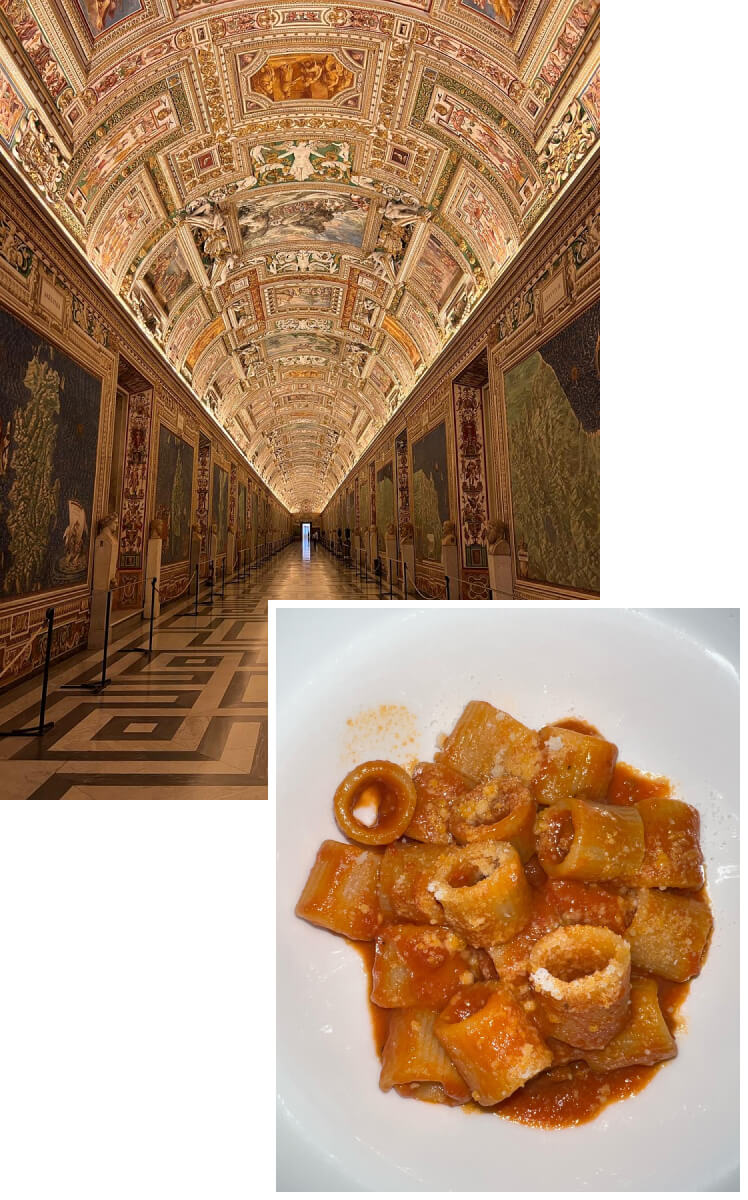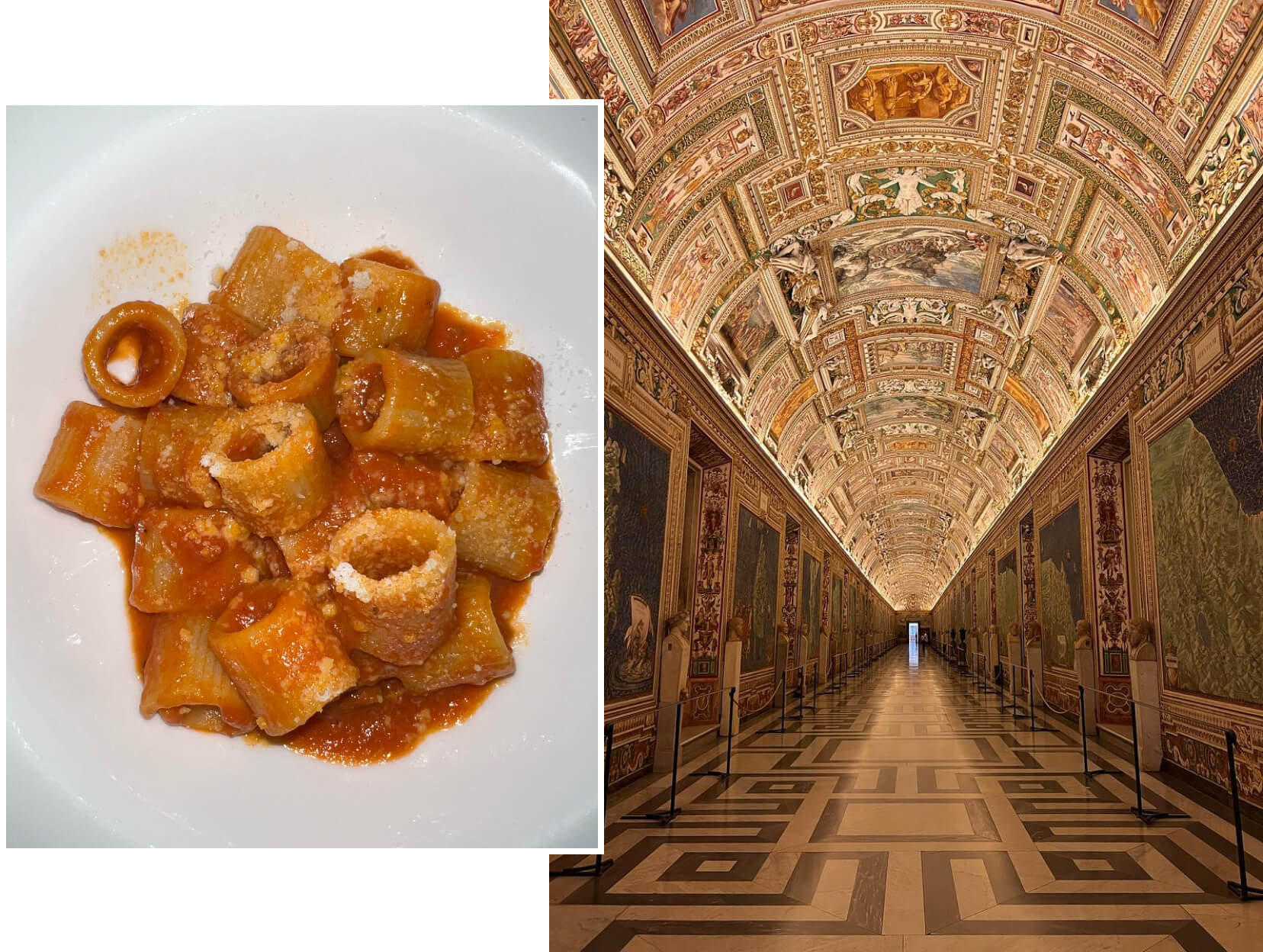 Days 2–4: Sciacca, Agrigento, and Menfi
Stay
Verdura Resort
About an hour outside the capital city of Palermo, Verdura is a sweet oceanfront respite set among acres of olive and orange groves. It's perfectly located in Sciacca to make day trips—to Agrigento, Menfi, and more—super convenient and easy. And the Irene Forte spa is stunning: The outdoor thalassotherapy pool cured the last of my jet lag.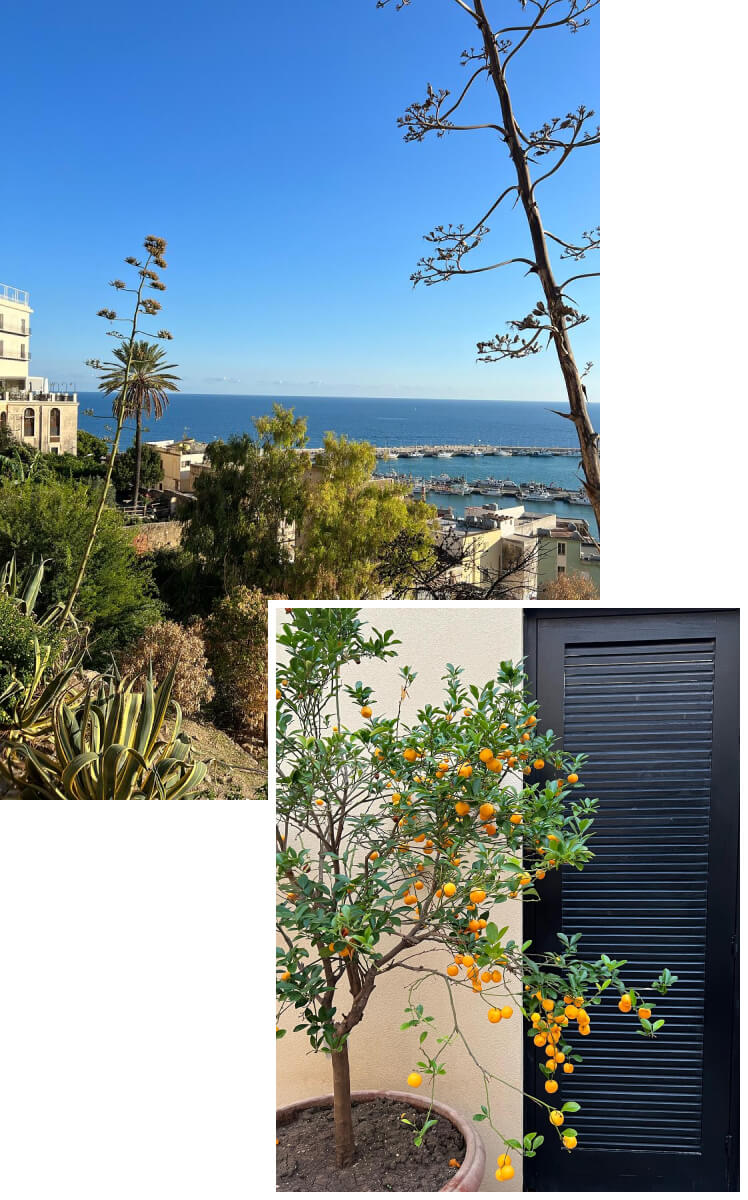 Sicily Is Sunny—Bring Provisions

Resign yourself to going through a lot of sunscreen; I packed my favorites in full sizes.

For Face

Saint Jane

Luxury Sun Ritual Pore Smoothing SPF 30

goop, $38

SHOP NOW

For Body

Dr. Dennis Gross

Lightweight Wrinkle Defense SPF 30

goop, $42

SHOP NOW

For Hair

Supergoop

Poof 100% Mineral Part Powder SPF 35

goop, $34

SHOP NOW

For Hands

UnSun

Hand Cream SPF 15

goop, $27

SHOP NOW
Do
Valley of the Temples
In Agrigento, the stunning, pristinely preserved examples of Doric architecture at the Valley of the Temples have been a UNESCO World Heritage Site since 1997. The Temple of Concordia (built in the fifth century) and Temple of Heracles are especially fantastic.
Walking Tour of Sciacca
Quaint and filled with shops selling local fabrics and ceramics, Sciacca's city center is amazing for shopping. Oro di Sciacca, a beautiful family-run jeweler, makes jaw-dropping pieces from gold and locally sourced coral.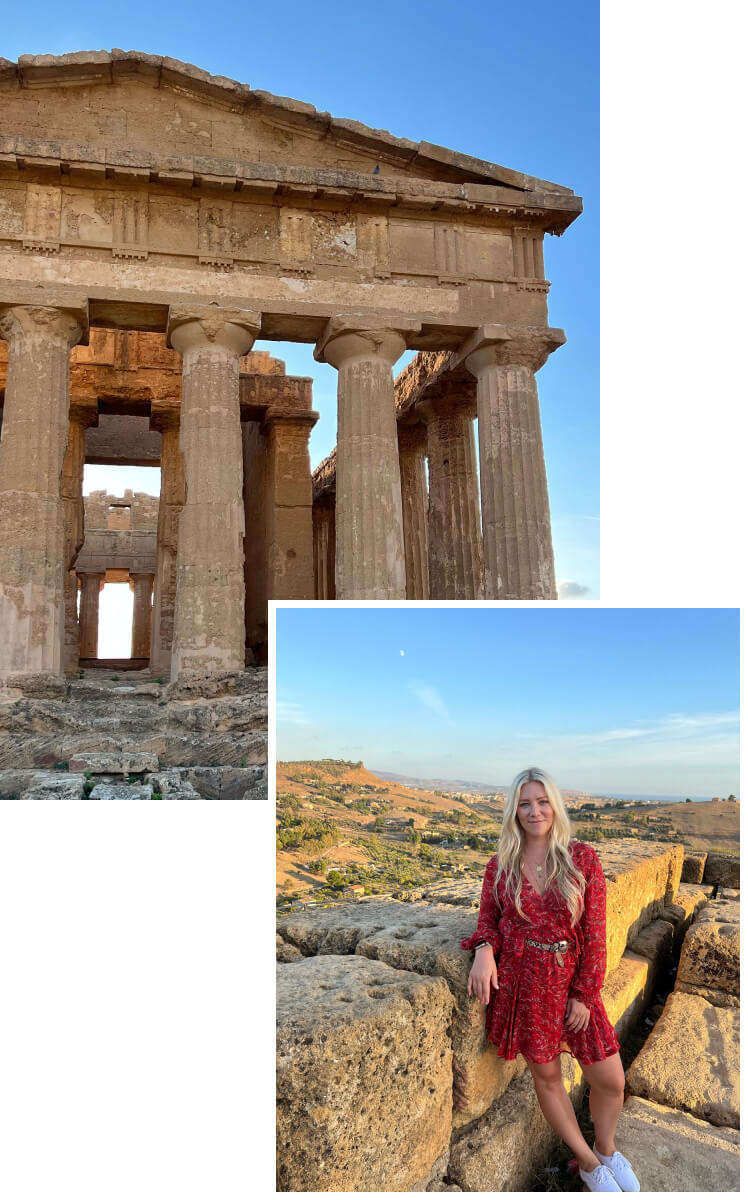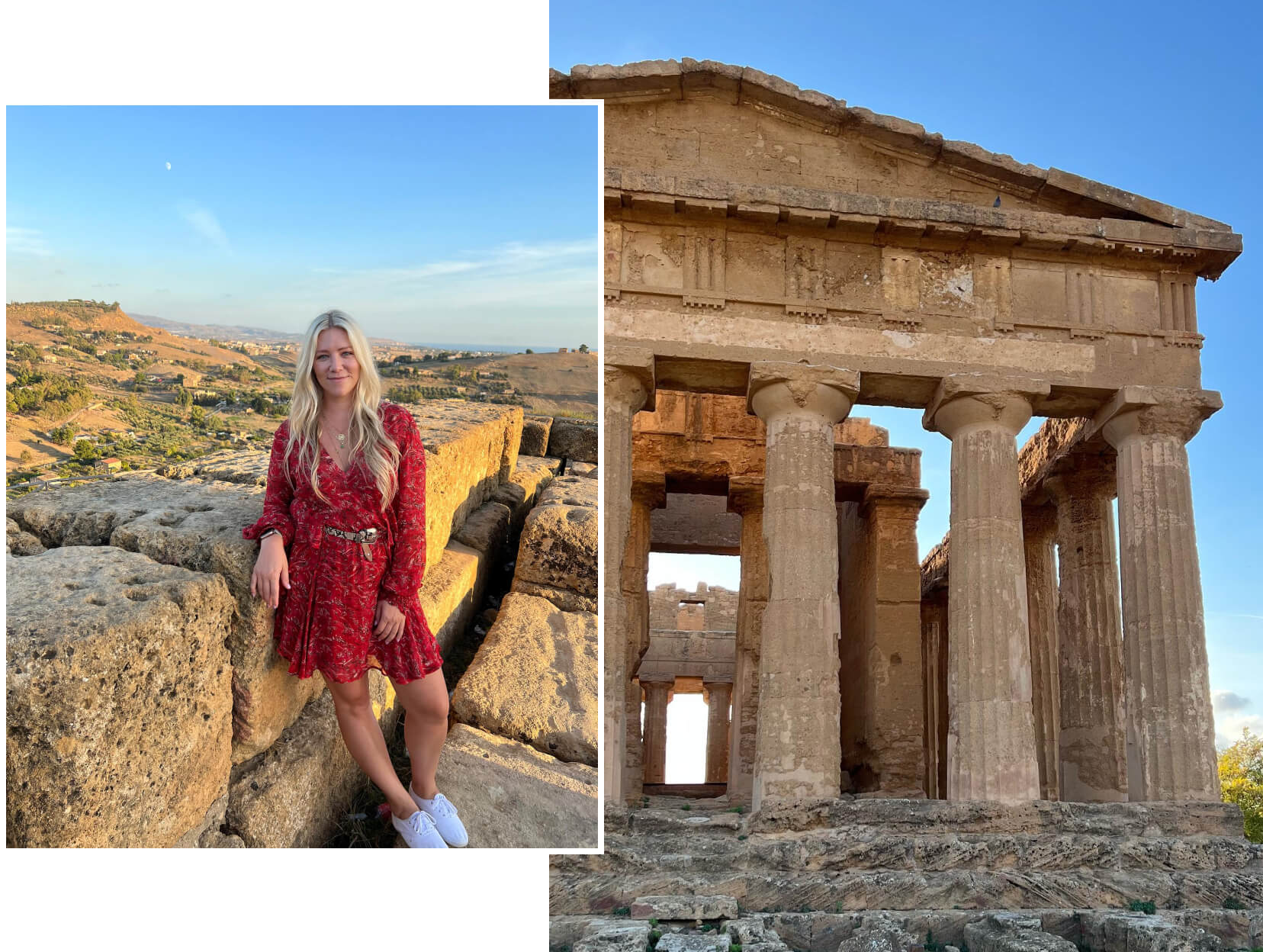 Eat and Drink
Cooking Class with Fulvio Pierangelini at Verdura Resort
Verdura Società Agricola, Verdura's sprawling organic farm, supplies the entire resort. First harvest your own herbs in the picturesque fields, then learn to make red prawn salad with fresh string beans and oranges, a delicious Bolognese, and more.
Ristorante da Vittorio
For the freshest seafood you've ever tasted, stop at this seaside spot on the way to Agrigento (the view is sensational whether you sit indoors or out). Get the pasta alla Vittorio with shrimp, mussels, clams, and calamari.
Planeta Ulmo Winery
Forty-five minutes by car from Verdura near the smaller town of Menfi, Planeta Ulmo is a family-owned vineyard, winery, restaurant, and outdoor viticulture museum. The wine tasting and lunch alfresco—we tried five wines and ate charcuterie, olives, a Sicilian pasta cake, and fresh bread with the winery's own homemade olive oil—is just incredible.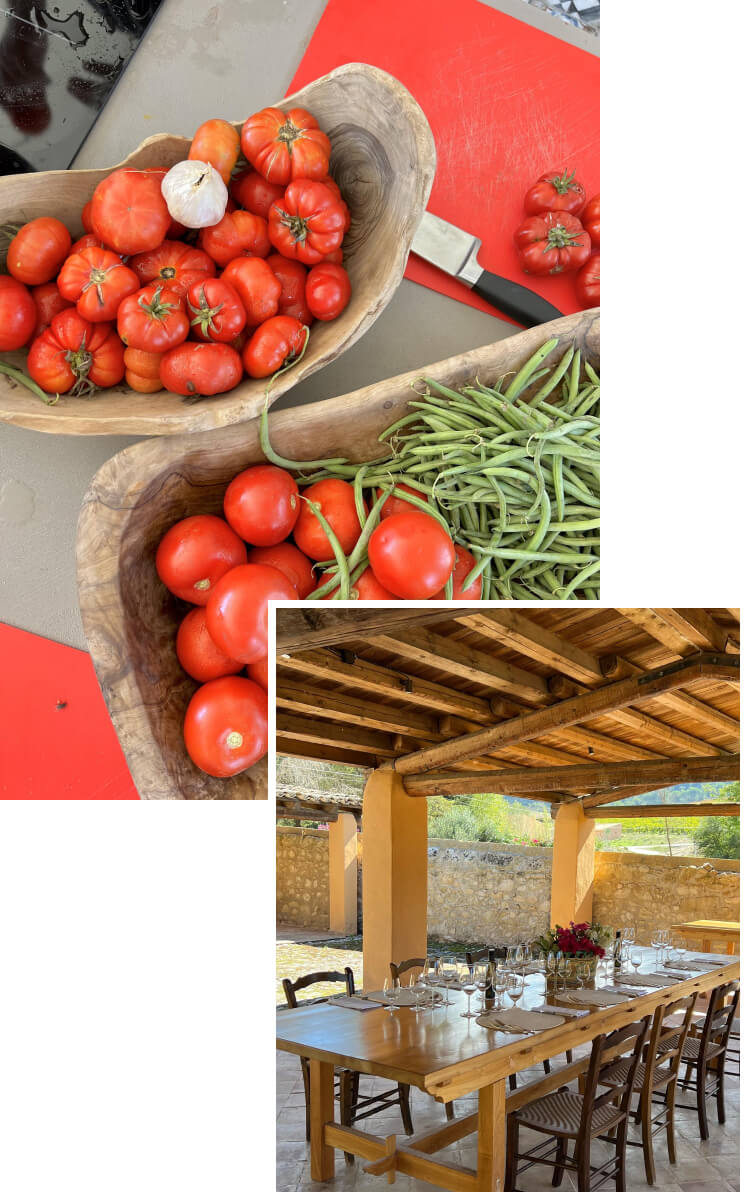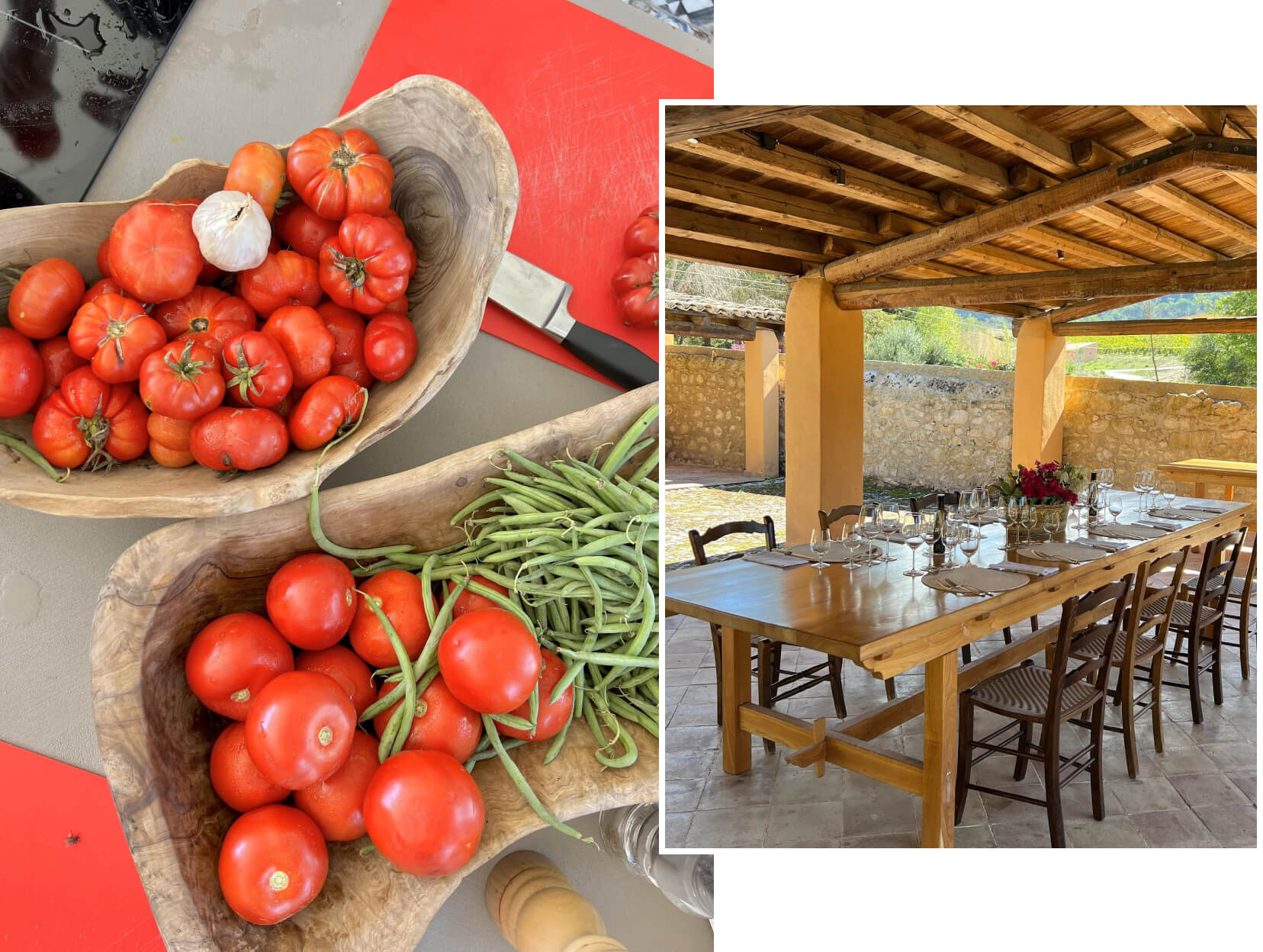 Cocciu di Luna
This restaurant is the best place to have a drink (I loved the Sicilian Spritz, with grapefruit seltzer, orange peel, and St-Germain) because of its spectacular view of Castello dei Luna, a medieval castle in Sciacca.
What to Pack

You walk everywhere, so pack to look chic (and feel comfortable) doing it.

Crown Affair

The Mini Shampoo, Conditioner, and Oil Set

goop, $60

SHOP NOW

Tata Harper

Vitamin-Infused Cream Blush in Lovely

goop, $45

SHOP NOW

Natalie Martin

Jasmine Maxidress with Sash

goop, $388

SHOP NOW

Birkenstock Arizona

Big Buckle

goop, $160

SHOP NOW

Tower 28

Beauty SunnyDays SPF 30 Tinted Sunscreen Foundation

goop, $32

SHOP NOW

goop Beauty

GOOPGLOW Microderm Instant Glow Exfoliator, 15 mL

goop, $42

SHOP NOW
Days 5–7: Palermo
Stay
Villa Igiea
At the foot of Mount Pellegrino and facing the Gulf of Palermo, this 13th-century palazzo was a long-ago hot spot for royalty and film stars and later renovated and restored to its former grandeur by hotelier Rocco Forte in 2021. It's absolutely gorgeous and perfectly balances history—the Sala Basile reception room is wall-to-wall with Art Nouveau frescoes by Ettore De Maria Bergler—with a sleek, modern sensibility.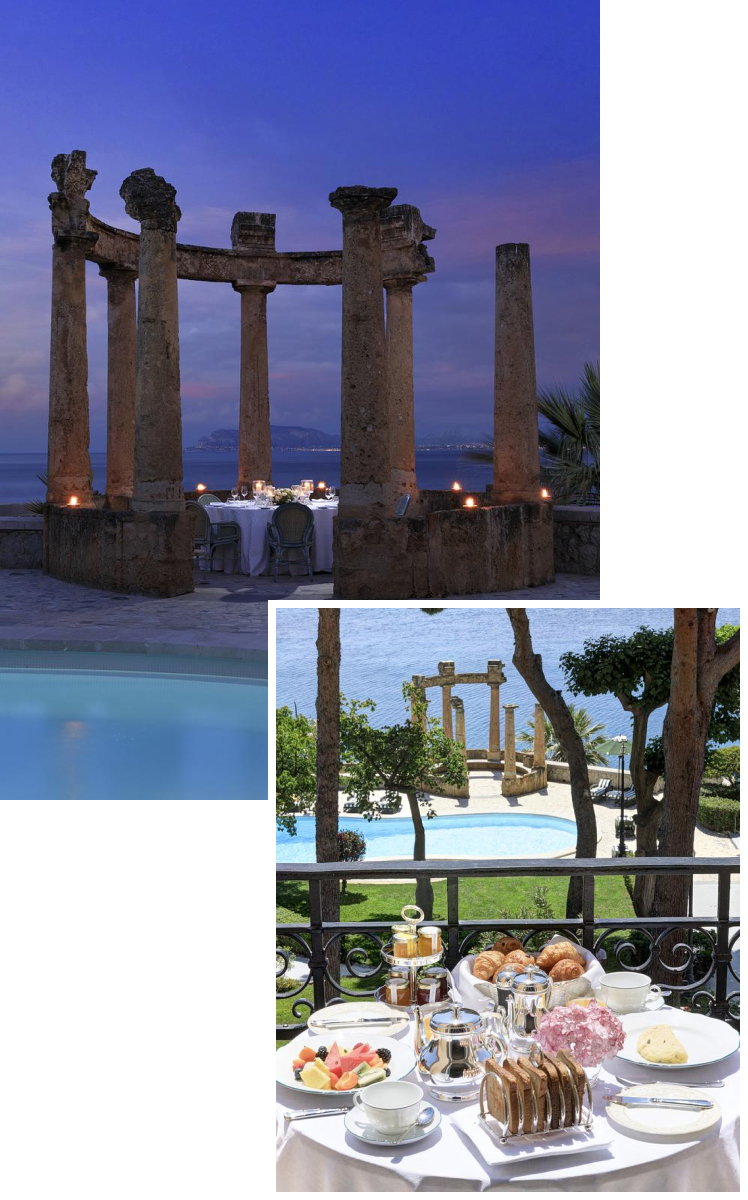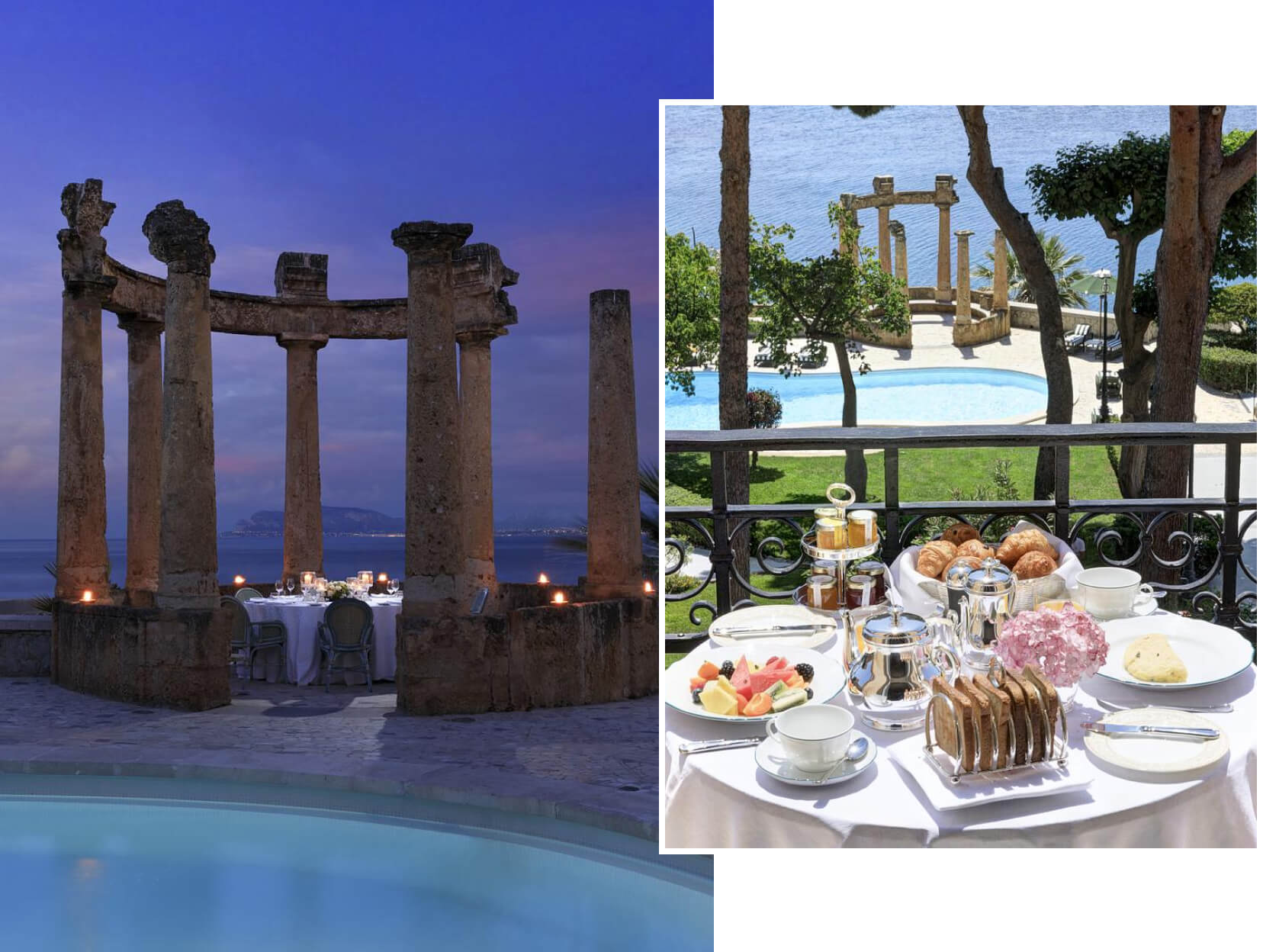 Photos courtesy of Villa Igiea
Do
Teatro Massimo
The beauty of this grand opera house (it's the biggest in Italy) has to be experienced, whether you're in it for the excellent acoustics (the performances are legendary) or you just want to marvel at the gorgeousness.
Quattro Canti
This Baroque town square dates to the early 1600s, with ornate fountains made to represent each season and statues of the Spanish kings of Sicily and the patron saints of Palermo etched into the walls.
Cappella Palatina
One of the most well-preserved examples of Byzantine art and architecture, the Cappella Palatina was built in 1140. The walls are covered in colorful mosaics, precious stones, and gold.
Cattedrale di Palermo
Constructed in 1185, this grand cathedral has been renovated and restored by different religious groups over hundreds of years, leaving it with a unique mix of Norman Romanesque, Gothic, Moorish, and Neoclassical architecture, along with religious relics and precious objects—including, most notably, the tiara of Constance of Aragon.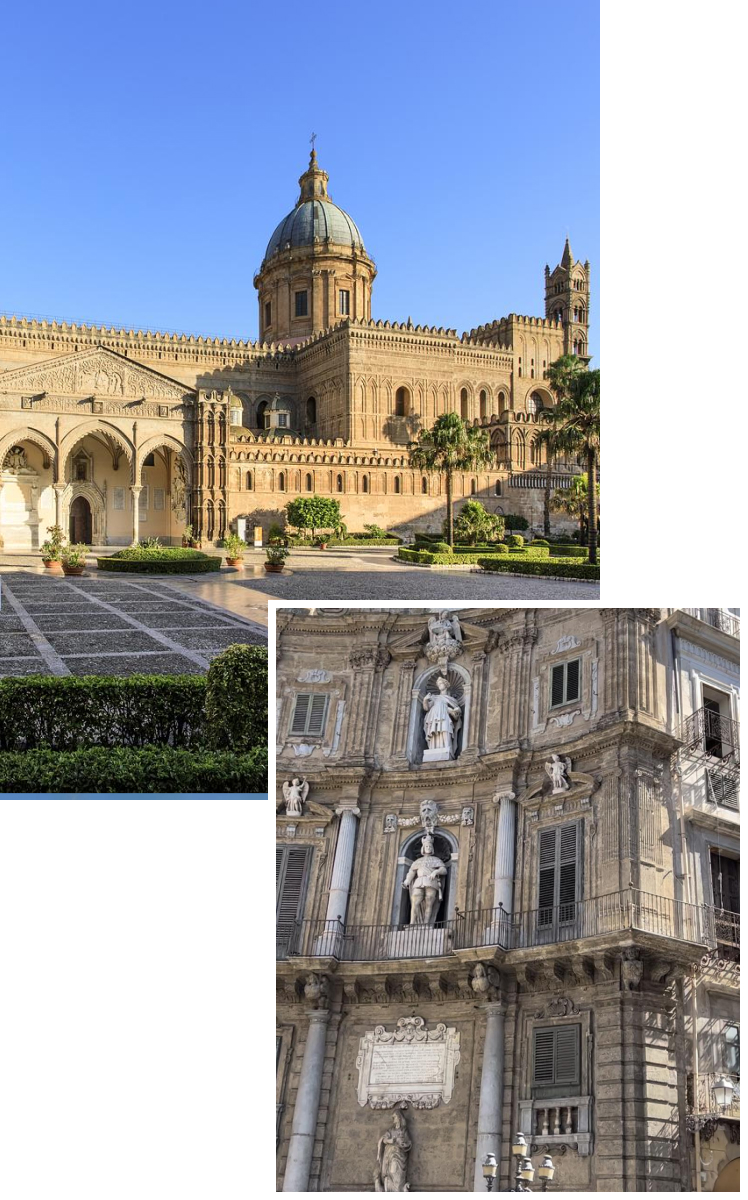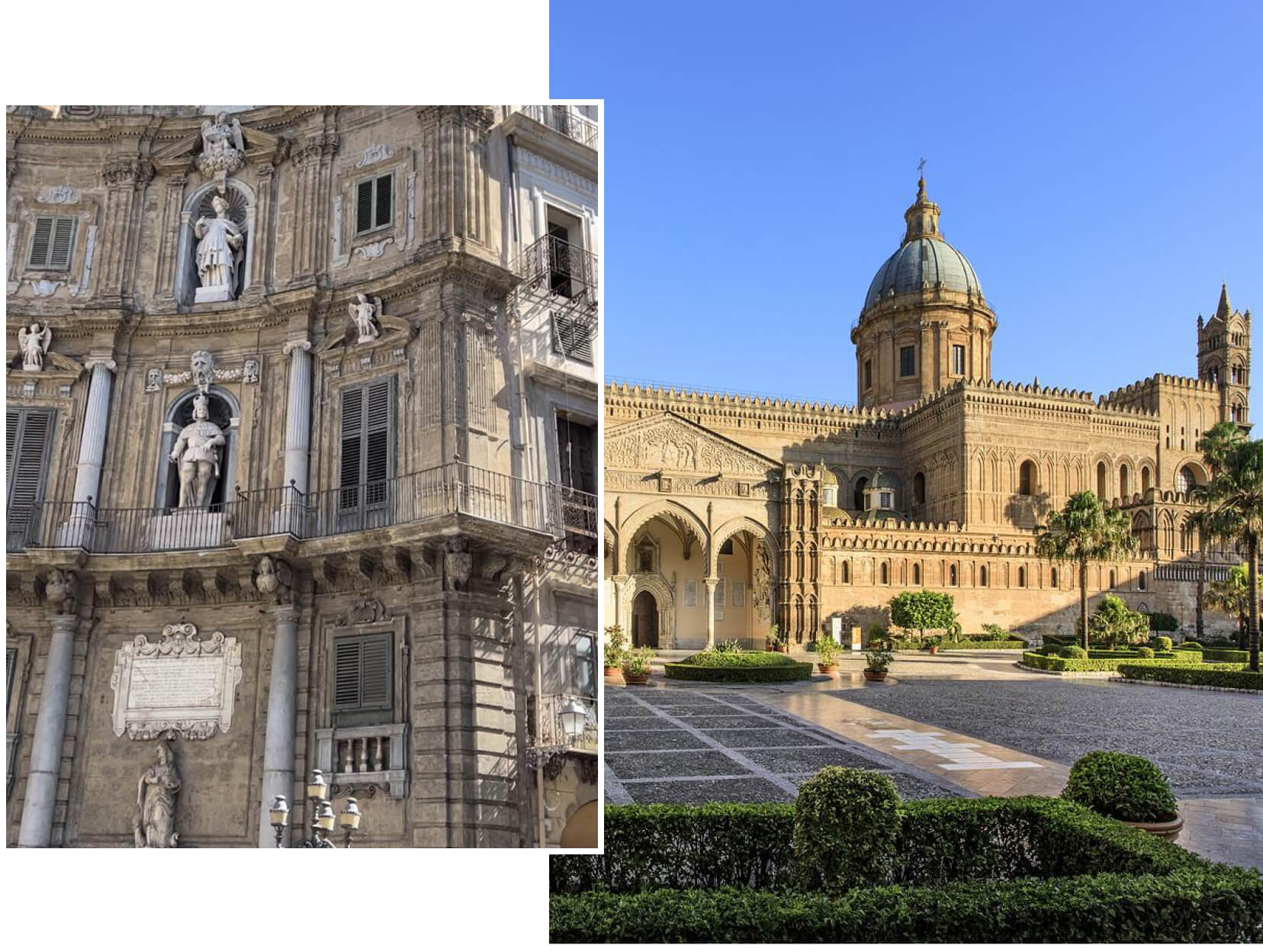 Eat and Drink
Capo Market
There's no better way to experience the deliciousness of Sicilian street food than this open-air market. I loved the just-fried arancini and the sfincione (a sort of Sicilian pizza) and searching for the perfect cannoli, which turned out to be even more delicious than I imagined.
Trattoria Altri Tempi
Furtuna Skin founder and COO Agatha Relota Luczo, a Sicily transplant, recommended this amazing spot—the place is crowded with locals who come for the outstanding pastas and fish.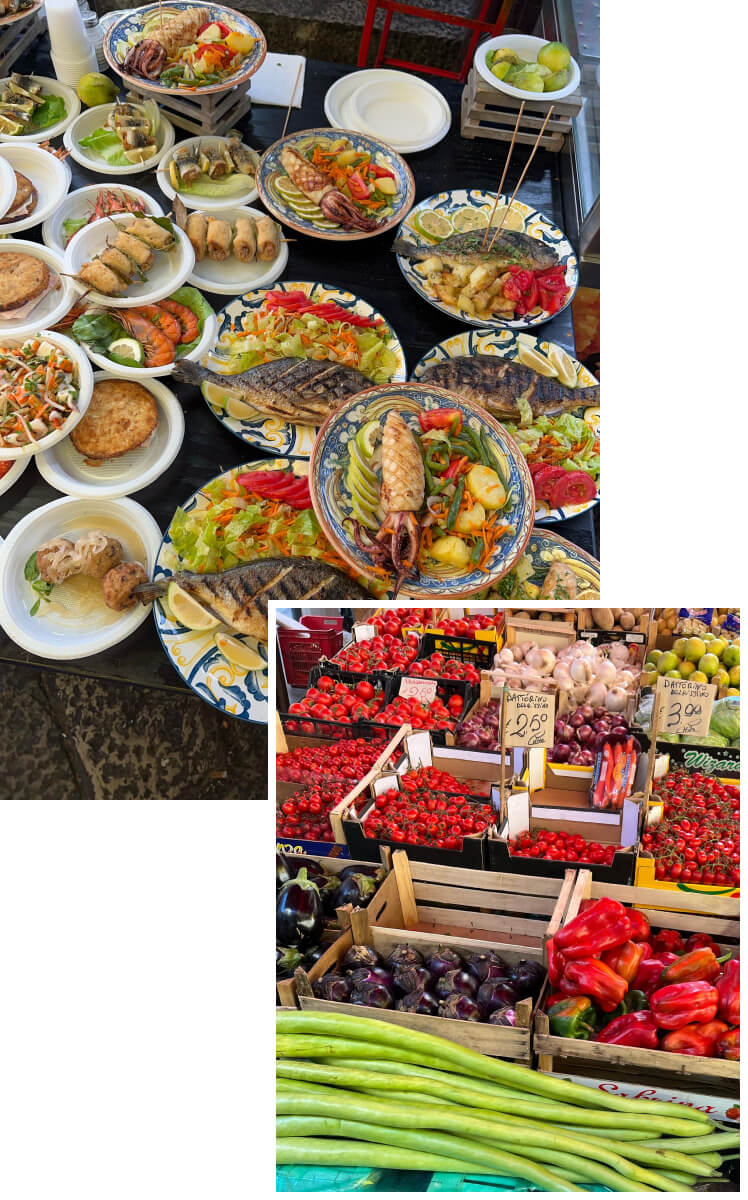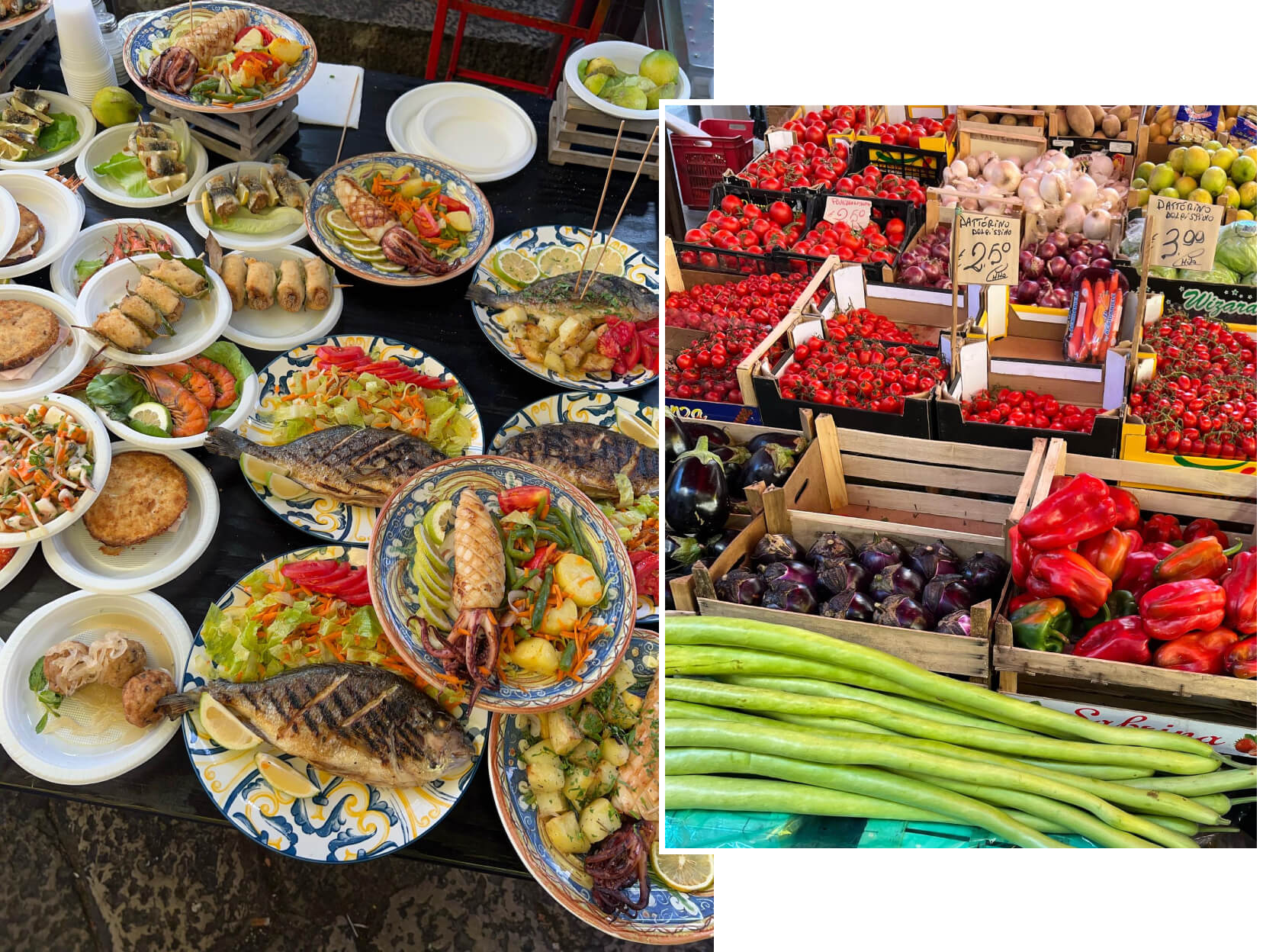 Days 8–10: Taormina
Stay
Villa Sant'Andrea
Serene, enchanting, and glamorous, the Villa Sant'Andrea manages to feel both grand and intimate at once. Soft neutral tones offset charming 19th-century marble staircases and Baroque paintings throughout. Set directly on the white-pebbled beach, it's pretty much paradise.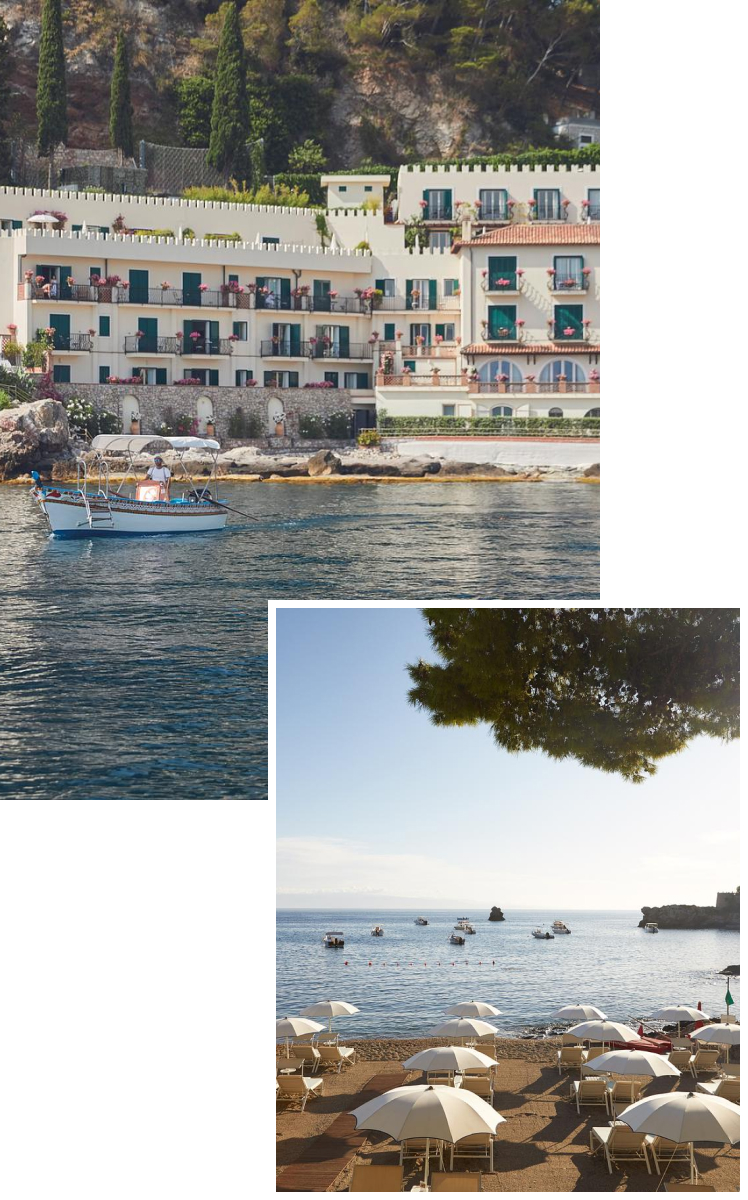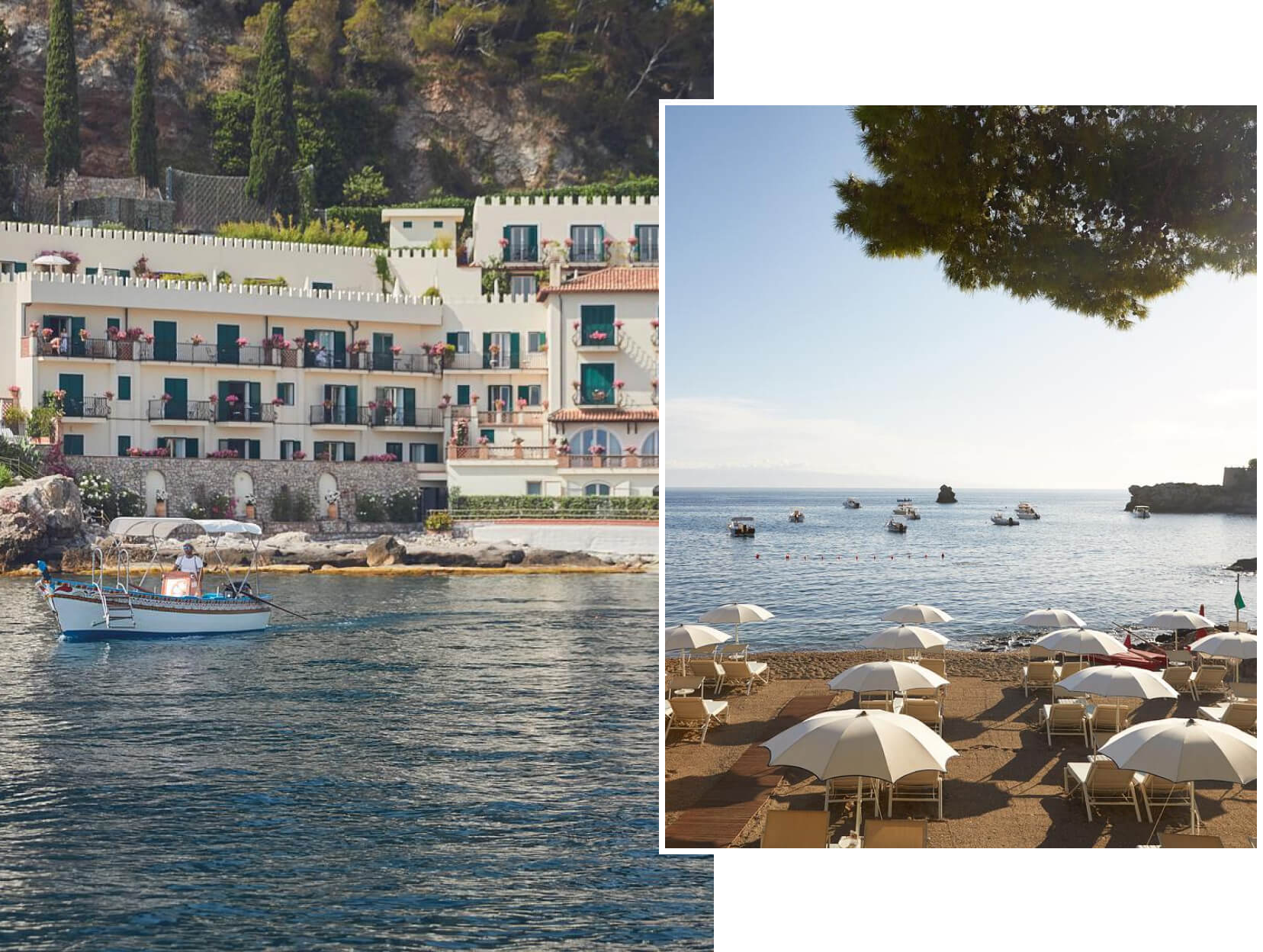 Photo courtesy of Belmond Villa Sant'Andrea
Do
Corso Umberto
Between the two gates of the city—Porta Messina and Porta Catania—this walkable street has tons of charming stores, pastry shops, cafés, and more to explore.
Mount Etna
The active volcano is part of almost every view in Sicily; it's also famous for hiking. The Alcantara Gorge, carved out by ancient lava flows, is spectacular; so is Valle del Bove, a horseshoe-shaped valley that protects the populated areas from future eruptions.
Teatro Antico di Taormina
This ancient Greek theater is set directly on the sea—it's hard to overstate how beautiful it is.
Eat and Drink
Principe Cerami
This Michelin-starred spot in the San Domenico Palace (hello, White Lotus, season 2) serves quail with green asparagus and black truffle, risotto with anchovies, and more deliciousness, all from chef Massimo Mantarro. It has a breathtaking view of Taormina Bay.
Morgana
With staff in hot-pink patterned blazers and the sofas in plush orange velvet, this wildly entertaining cocktail bar—the people-watching is next-level—is a great spot for a drink (or two).
SHOP CLEAN SKIN CARE
Related Reading
Epic Workouts, Cold Plunges, and Kundalini Yoga at Six Senses Ibiza
A Weeklong Cleanse at The Ranch in Italy
The Rome Guide